I've always wondered what a day in the life looks like for someone leading a nonprofit arts organization. What is it they DO all day?
A few days ago I was able to steal Alan Hineline, Central Pennsylvania Youth Ballet's chief executive officer, away for a short time to ask him some questions. Behind the scenes, as it were, you'll find Alan hard at work strategizing on how to grow CPYB both artistically and financially. But what all goes into that? What's the business of running a ballet school? I invite you to join me – become a fly on the wall – as together we learn about this CEO's perspective, how he approaches this business, his concern for the students, and what the path ahead looks like.
A New Page: What steps have you taken to prepare yourself for this position? Is it a culmination of all your artistic experiences or are there a select few?
Alan Hineline: It has been my whole career up until what I'm doing now. Starting in 1995 Marcia gave me an opportunity to choreograph, and it was during that time that my predecessor, Maurinda Wingard, took me under her wing. Maurinda believed I had a business side to my brain that should be developed. Right away she started involving me in the business of CPYB, mentoring me and introducing me to the board of directors.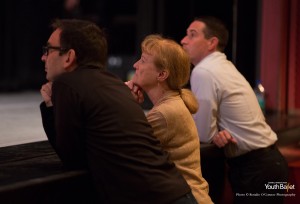 Spending the next 18 years as CPYB's resident choreographer gave me experience and a true inside understanding into the artistic leadership of CPYB. In 2008 Ballet Philippines, the national ballet company in Manila, invited me to lead their organization as artistic director and chief operating officer. There I developed my craft of what managing a nonprofit is about on every level because their organization is structured very similar to ours. So when I was invited back to CPYB, I already knew the organization, the aspirations of its leadership, and the people within it. It was an ideal transition.
ANP: As you step foot daily through the studio doors, what's going through your mind?
AH: The job is different every day! Each day presents new opportunities and challenges. I may have a schedule that is very planned out, but it can change in an instant. Most of my thoughts involving strategic thinking actually happen outside these four walls. That's when I have time to reflect on what we've done, where we want to be, and how the current environment affects both.
ANP: Describe your perfect day at work.
AH: My perfect day at work is one where I see the fruits of all of our efforts coming together – the faculty, the staff, the board, and the students. That's the perfect day!
ANP: How about a perfect day off?
AH: What's a day off? (laughs) Being on a beach in some exotic location with no electronics and no e-mail!
ANP: Up to this point you've worn many hats in your career – dancer, choreographer and arts administrator. What single achievement are you the most proud of? Which one taught you the most?
AH: Well, I haven't achieved it yet, but it must be the one I'm taking on right now – working with our board, the staff, and the faculty to guide CPYB toward sustainability and viability for future generations of students and audience members. It's quite an undertaking working to ensure that an organization continues to both preserve and innovate its vision for the future. What sustains me through it all are the creative thinking and collaborative spirit that a lifetime in dance has taught me.
ANP: A good portion of your job entails creating and maintaining relationships with current and potential financial supporters. How has this changed or become more challenging in recent years?
AH: Government support has dwindled so it means that developing relationships with foundations and individual donors is paramount. That said, I don't see fundraising as a dire task. I believe in the product here at CPYB. And I believe that when others are exposed to what CPYB delivers them, instantly, more often than not, they want to get involved.
ANP: Where do you start when laying out plans for an upcoming CPYB school year? Take us through that process.
AH: Our fiscal year runs from September 1through August 31. I usually start making the budget for the next fiscal year in November of the preceding year. During that time, I'm working with each of the departments talking about their needs, and dreams, for the upcoming year. I must consider everything from facilities to artistic direction to marketing to development to staffing – all of it. We start working with that to get a shell of what's possible because we also have to work within a financial reality. From there, we start plotting in the major rocks and build support around it.
Because we're a school and not a professional performing company that hires in talent, each year we consider who our students are and their individual needs. We talk about repertory, guest teachers, and the number of performances. This is all based on who we anticipate having in the school for the upcoming year. And then, somehow, by the time we put all those pieces together, we've got a plan in place!
ANP: What do you do when there's a gap between artistic vision and financial reality?
AH: We're very fortunate here at CPYB to have a board of directors that understands and embraces the growth of the organization. They also understand that if you diminish the product, the return on your investment will decline. So we all work very hard to ensure that gap doesn't exist.
ANP: How important is your team to you?
AH: I've learned that successful leadership only happens as a result of great teamwork. CPYB has an invested board, staff, and faculty, and each one of them brings an individual expertise that makes the whole organization stronger. I rely on them heavily to provide the information that allows me to outline the strategies and tactics to support Marcia's vision.
ANP: Exactly how full-time is your position? How do you turn it off? Unplug?
AH: There are many weeks on end where 60 hours is the norm. That's six days a week. Most of the time it's a labor of love. There are times when I just have to get away, and that's usually the time I get the most strategic thinking done – when I allow myself to get away from the daily tactical work that's necessary. I don't know that I ever unplug all the way.
ANP: What are your thoughts on risk? Does it scare or drive you?
AH: I don't know if it scares me or drives me. I'm fairly pragmatic. But I dream. And I've surrounded myself, fortunately, with people whose opinion I trust. They help me outline plans to achieve those dreams. Some days it does look risky; and while it may be a stretch, most of the time they're obtainable and supported with sound tactics and strategy.
ANP: What about change?
AH: Change doesn't scare me. I've lived around the world. To me change is just change. However, I'm not a fan of change without reason. If I can see a way to do something better than we're doing it now, then I'll embrace it.
Writer's Note: Busy man!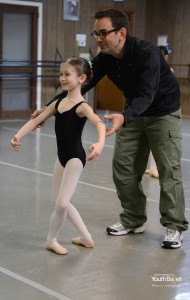 When he's not carrying out his day-to-day CEO duties, you'll find Alan doing some other things he so enjoys – creating or re-setting one of his highly successful, crowd-pleasing ballets on CPYB dancers, in the studios teaching (which he's just returned to this fall – lucky students!), or working his way through the hallway stopping to visit with students and parents. You can just see him absorbing the youthful energy contained within those lavender walls!