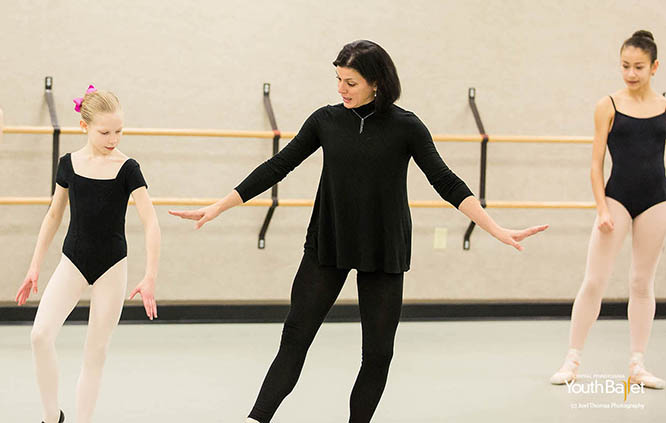 A choreographer is an innately imaginative craftperson motivated by music or a muse, or both. A choreographer takes the dance vocabulary and manipulates it, inverting and melding traditional steps with uniquely inventive ideas to create something fresh and new. I am not a choreographer.
Sure, I've had a few choreographic experiences: Two pieces for students at the New York State Summer School of the Arts; several collaborative ballets – I stress the collaborative element – with a former teacher and an immensely talented group of professional dancers (including my vastly more imaginative husband); a Central Pennsylvania Youth Ballet An Evening at the Barre gala; and a number set to Rossini's "William Tell Overture" I recall presenting for my patient parents in our living room as a child.
"Thank you, Mom, for making me take piano!"
This particular adventure began last year, when Marcia (Dale Weary) told me that someone attending a CPYB studio showcase had lamented the absence of the school's younger students. Watching our smallest dancers perform onstage in June Series, I appreciated how special it is to see these beautifully trained children on a program with their older, more advanced counterparts. In August, I mentioned to Alan Hineline, Director of Artistic Programming, that if Marcia ever wanted a new ballet specifically for children, I would be happy to put something together.
A month later I was surprised when Alan asked what music I might use for a ballet. I told him I had been listening to a piano arrangement of a suite by Gabriel Fauré. Alan felt it was a suitable choice for children, and he and Marcia invited me to contribute to Choreoplan 2017, CPYB's 2-week program giving students the opportunity to work with choreographers.
I was excited and a little nervous. The other three choreographers, chosen from a pool of applicants, had much more experience than I, and I didn't want to let Marcia down. We began, and as the days flew by, the kids (average age: 10) learned quickly. I was fortunate to have Rose Taylor-Spann, CPYB's Children's Division coordinator, in the studio as ballet mistress.
During the process, I jotted a few musings:
"Thank you, Mom, for making me take piano!" (I referred often to the score.)
"Is Tristan for real? (The pint-sized imp kept rehearsals lively!)
"Finished the ballet tonight. This has been a journey of small victories and satisfying solutions accompanied by thoughts on how things could be better and the recurring question: 'what am I doing?!' Kind of like life …"
"The adventure continues … "Saudades" will be given a performance at this year's June Series. "
For the title, I chose "Saudades." This Portuguese word defies translation, but I found a few attempts online. I like this explanation best: "… sadness coupled with a paradoxical joy, derived from acceptance of fate and the hope of recovering what is lost by something that will either fill the emptiness or provide consolation."
Fauré's composition evokes all of this in me. Ballet is ephemeral, as its demands on the human body dictate a limited lifespan. However, any void I experience since my retirement from the stage is filled to overflowing with the talent and heart of our students.
In the end, Marcia was very pleased. The dancers performed beautifully in the studio presentation. They made me a huge card, and we took a picture to commemorate our shared adventure.
Epilogue: The adventure continues. Today a rehearsal of the ballet appeared on the schedule. It turns out that "Saudades" will be given a performance at this year's June Series. I'm thrilled for our ballet, and I hope to see you at the show!
Amanda Edge is on the faculty at Central Pennsylvania Youth Ballet. During her professional dancing career – at New York City Ballet and on Broadway – she attended Fordham University, where she discovered a fondness for writing. She works as a répétiteur for The George Balanchine Trust staging a number of George Balanchine works and is stepping excitedly into the world of choreography, creating her own new works!