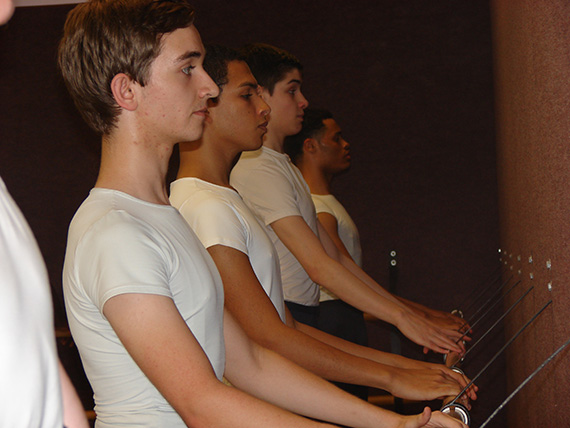 This past spring, CPYB announced a new Male Scholarship Program, which is an expansion upon the Men's Program currently in place at CPYB. This exciting program, and an outstanding chance of a lifetime I might add, is the first of its kind within a ballet school. I thought it might be interesting for us to take a peek into the program since the announcement was made. For the inside scoop, I interviewed CPYB school principal, Nicholas Ade. As a side bar – interviewing my husband was great, but carving out the time to do so was kind of like landing a bull's-eye on a moving target!
A New Page: Let me begin by asking you about the need to recruit men.
Nicholas Ade: As those of us in the ballet world know, female students far outnumber male students. Males in ballet are a rarity. A precious commodity, if you will. Growing up in this field, I recall looking around my studio and seeing a sea of girls, and I was the only boy. That's not uncommon. We're looking to change that! For our female students to progress in pas de deux work they need men to lift and partner them. In addition to that, the dance world's demand and expectation of male dancers has reached a new level in the past 10 years. It even far surpasses what was asked of me just a few short (-ish!) years ago. We, at CPYB, want to continue to train the best and brightest young talent that will be the next generation of professional dancers. Many male dancers have come out of this school and gone on to amazing careers, so why not offer this chance of a lifetime to as many male dancers as possible?
ANP: What was the response like?
NA: Well, let me tell you first about how nervous I was right after the launch. Would people respond? What would the reception be like? Would too many applicants inundate us? All of these worries raced through my head daily. The response was very positive. We, of course, got the attention from aspiring male dancers, but I was taken aback by the number of teachers and artistic directors that chimed in noting what a great commitment and overall opportunity this is. I couldn't be happier (and, frankly, relieved).
ANP: How many applicants were there? Are they local to the Carlisle area or from far and wide?
NA: We had 27 applicants. At first, I struggled with whether or not that was a good solid number I was comfortable with. Did I expect more? Did I expect less? After reviewing all of the applications and video footage, these men sure didn't make it easy on us to choose our top eight recipients. Any more applications would have meant that I'd have had to say no to that many more. What truly shocked me was the vast amount of locations in which our applicants reside. We have had applicants from across the US and abroad. That to me was incredible!
ANP: Can you tell us about the two-year commitment of the young men and how the scholarship sets itself apart from most ballet schools within the U.S.?
NA: Simply put, it is a two-way commitment. I used to take class and practice until the lights were turned off on me. True story! What helped give me that drive was the feeling of commitment coming from my teachers. They were invested and always believed I'd become a professional ballet dancer. With that being said, this is not only a commitment that the men are making to us, but it's also our commitment and belief in their talent that we're making to them.
The young men who have been awarded the scholarships have what it takes. Their potential, combined with our two-year program, will allow them to achieve their goals and dreams. I really believe that CPYB will put them on that path to do so. The majority of other schools follow more of a one-year commitment where success and progress must be reassessed and measured at that time. I sometimes want to fast forward time and see the outcome of these eager men and what their hard work and these two years will produce. One thing at a time, I have to remind myself.
ANP: Will the men follow a different schedule than that of the girls training at CPYB? How does it differ?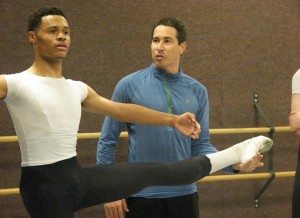 NA: The men will follow the same schedule as all CPYB students in the sense that they'll be students training under Marcia. All you need to do is look at the list of currently dancing alums and you can see that Marcia's curriculum works. They'll have regular men's classes and partnering classes and many, many technique classes. The thing that does differ for these young men is that they'll benefit from strength-training classes specifically designed to give them every opportunity to become stronger overall. More on that later though …
ANP: What do you predict the camaraderie between the returning CPYB male students and the new scholarship awarded students to be like?
NA: I think that it'll be similar to my own experience. When you have guys in ballet who have become used to being the only one in their studio and you put them together, they instantly have a common bond that ties them together. That's what excites me about the future friendships to be made. From moments in the studio filled with friendly competition to being each other's supporters, these young men will have every opportunity to share in something very unique and special that they'll carry with them for the rest of their lives.
ANP: If someone reading this interview would like to apply, can they? Is it too late?
NA: Unfortunately, yes. It is for this year. Our male scholarship deadline was August 1st. This doesn't mean that there aren't other scholarships available for next summer or that they can't attend CPYB. Marcia's ideal of wanting every student who wishes to receive classical ballet training has led to an open enrollment here. If there are students who'd like to join us, simply contact us for more information on how to get here and receive the best possible training so you can fulfill your potential.