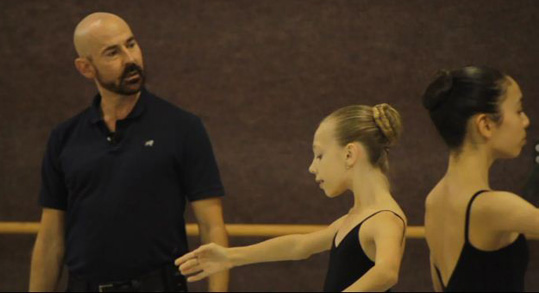 Just a short 22 years ago, I spent my last summer program training at the School of American Ballet (SAB) in New York. At the time, SAB didn't have dormitory accommodations, so I sublet an apartment with three other girls aspiring to "make it." We found a hidden gem in the Hell's Kitchen neighborhood – a place fabulously decorated in Ralph Lauren Home owned by none other than Wes Chapman! Now, as if the world isn't small enough (and particularly the dance world), here I sit with Wes at a local Carlisle Starbucks chatting about his time teaching under Central Pennsylvania Youth Ballet's inaugural Artist in Residence Program. Grab your own cup of joe – mine is a double tall non-fat vanilla latté – and join us in a coffee talk with Wes Chapman!
A New Page: The stick. It doesn't leave your side when you're teaching. Tell us about the stick.
Wes Chapman: Everyone wants to know about the stick! The stick has several meanings. One, it does get everyone's attention. Two, it is a source of entertainment. After my six weeks here, it's become a great way to connect with the kids. We joke about it – "I want you to stick it there at the end." Sometimes I'll use it as a poker saying, "put your toe on the floor" or "don't roll in there." An excellent communication tool!
ANP: Prior to arriving at CPYB as the artist in residence, what did you want to achieve?
WC: Until I was in front of the dancers I wasn't sure. You don't know their strengths and weaknesses until you see them in action. CPYB students are very strong technically and it became apparent within the first few days that I wanted to focus on movement quality. I felt that at this point in their development I could help them the most with refining the artistry within their movements.
ANP: How have things played out?
WC: The dancers responded remarkably well. I'm extremely pleased with how far they've come! I like taking the last two minutes of class to ask the dancers what, if anything, they learned new that day. It helps to reiterate the corrections and concepts I introduced during class and the students retain much more.
ANP: What were some of your first impressions of CPYB? How did they change or, for that matter, stay the same?
WC: I knew from having visited here long ago that these dancers have incredible focus, and I'm incredibly impressed all over again. Even down to the really young ones! Their focus, discipline and willingness to learn are extraordinary. That impression certainly did not change during my time here.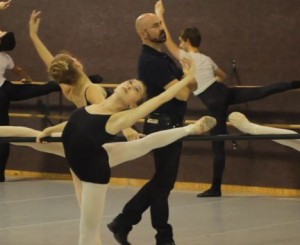 ANP: Marcia constantly encourages the students to dip deep into their soul to express the dance. In your teaching you also talk about a dancer's artistry, emotion and passion. How have you helped the students draw that out?
WC: We talk about it, of course, but I also try to demonstrate to give them a road to go down. I try not to overdo that because I don't want them to just copy. I want them to become their own person with their own style. Then we talk about the music. How does it make them feel? I share how a piece of music evokes emotion from me. Quite frankly, sometimes they don't feel anything. And that's alright. At least I've planted a seed allowing for their own interpretation perhaps the next time.
ANP: Principal dancer, artistic director, international classical ballet teacher, répétiteur, coach – you've worn many hats and encountered dancers at various levels of talent. What draws you to a certain dancer?
WC: I always like great feet – who doesn't? I also love seeing somebody who is individual and who has an understanding of their own possibilities. Sometimes you see that happen in a really young kid. You can see they love it and live it. They stand in front of you with an obvious hunger that their body language is saying "give me more, give me more." That's what I really like.
ANP: Is teaching an art or just part of being an expert?
WC: Oh, no. Teaching is definitely its own gig. I think some people are gifted dancers but terrible teachers whereas others who are poor dancers make excellent instructors. Then there are those considered great dancers who work really hard at learning how to become a better teacher. That's me! Dancing was natural for me. Teaching, I've worked to develop.
ANP: What return do you get from seeing a student perfect something they've been struggling to learn?
WC: It's everything. Yesterday I was teaching an advanced level. I talked about this movement and that movement and the students started doing it. I got a chill. That's why I do this!
ANP: If I asked the students about your time here, what would they say?
WC: I hope they'd say they've learned a lot. I hope they say they've been inspired. Maybe inspired in a way they've not been touched before. Those are my hopes.
Writer's Note: Shhh. Mum's the word! What I didn't share with Wes is how my roommates and I would rummage through his video collection (VHS back then). So many wonderful performances to view – I don't think we ever made it through them all. We'd gather after class and marvel at his dancing. Such ease to his movement. His awe-inspiring passion and artistry traveled beyond the orchestra pit and into our hearts, as well as into the millions who witnessed his talents unfold on the stage. When you get a second, look him up. You'll be glad you did.