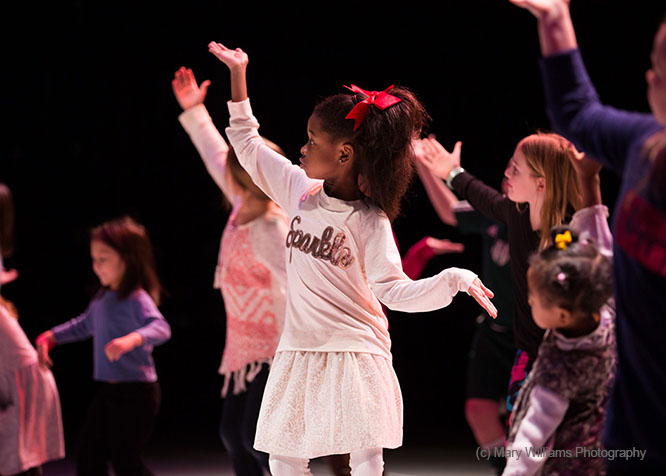 Reprising itself for the second year in a row, Central Pennsylvania Youth Ballet (CPYB) is pleased to announce its interactive dance program — Sound and Movement — is back. With the program's wild success in 2017, Sound and Movement will provide aspiring youth dancers with the opportunity to experience music tangibly through a series of interactive exercises. Joining CPYB at the helm of the program is well-established chamber music presenter Market Square Concerts. Together both parties will guide students through the rich world of human emotions. As a result, young people will gain a deeper understanding of how emotion is connected to music and dance.
Sound and Movement: The Language of Emotion
From happy to sad to anger and peacefulness, Sound and Movement participants will take the Whitaker Center for Science and the Arts stage for a chance to bring their love of music to life. Participants will focus on how these emotions can be communicated through dance.
In addition to their exploration of emotions through the art of dance, students will also enjoy performances by CPYB dancers. Renowned violinist Peter Sirotin and pianist Ya-Ting Chang will provide the music.
CPYB Chief Executive Officer, Nicholas Ade, is thrilled with the turnout last year and hopes for even more participants this year. At Central Pennsylvania Youth Ballet, its number one goal since the beginning has always been to change lives through dance. The Sound and Movement program does just that.
For those who are interested in participating in this year's Sound and Movement program, mark your calendars for Sunday, February 18, 2018. CPYB is happy to offer not one but two different time slots available at 12:30 p.m. and 3 p.m. on the Whitaker Center Stage located in Harrisburg, Pa.
By the program's end, children will have an extensive amount of knowledge in regards to just how critical the role of emotions is in the world of dance.
Sound and Movement is a free and open to the public program – but an RSVP is strongly encouraged due to its limited capacity and high public interest. To register, please visit CPYB.org/SoundandMovement.
To learn more about CPYB and the many dance programs available for students aged three and up, please visit www.CPYB.org.