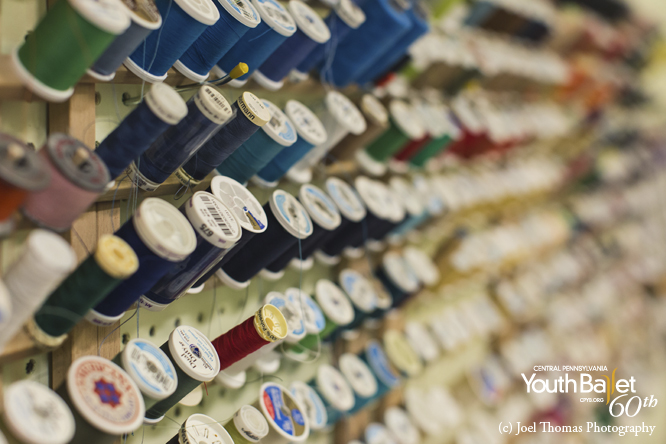 It was the most beautiful thing that I have ever worn. The fabric was a hand-painted, heavy silk charmeuse. A myriad of colors. Golden hues of yellow. Ripe tones of orange. All woven around vivid streaks of red coupled with sections of dark, bold blues. When I danced, it moved with me only to accentuate each and every one of my intricate steps. When the music played, the audience could envision each musical note that seemingly burst from the seams of the vibrant fabric.
This was my costume from Val Caniparoli's Lambarena — costumes designed by Sandra Woodall and built by Anne Beck. Next to my wedding dress, this outfit ranks way up there for being the most beautiful thing that I have ever placed on my body.
Have you ever attended the ballet and as you sat in the audience you said to yourself, "I can't quite place my finger on it, but something is just not quite right." Then you realize it is the costumes. You become totally distracted. Missing the dancing, you don't fully appreciate the experience.
Mishaps such as this absolutely answer the question … Why is costuming so important?
Ballet requires a great deal of balance, effortless grace, and undeniable strength; and costumes are a reflection of such traits. Powerful garments, they help the audience better understand the story that is being told — but yet, without a spoken word.
I have attended several ballet performances where a collection of awe-inspiring gasps was heard as the curtain rose and the costumes were revealed. Costumes have that ability to enhance the whole atmosphere and mood of a performance. They bring meaning and purpose to every show. From the dancer's perspective, costuming becomes an extension of themselves. Helping to extend their lines. Emphasizing their movements, whether sharp or fluid. All in all, costumes echo the choreography.
Clothes may make a statement, but costumes tell a story.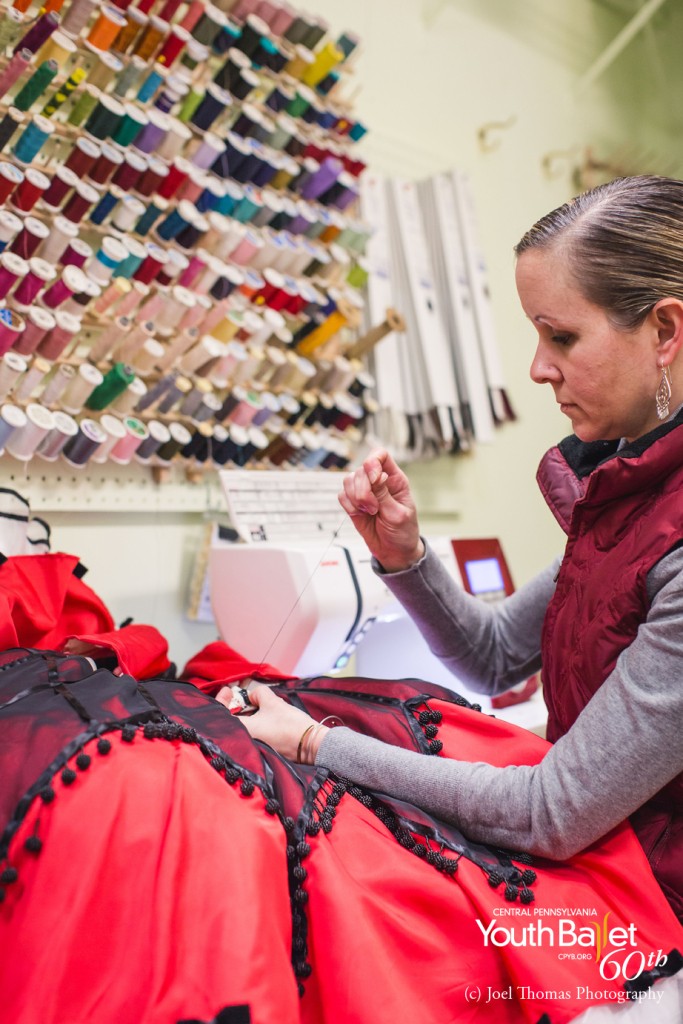 It's probably safe to say that behind each costume is a special person. One who envisions and creates this splendid attire. Weighing the challenges. Possessing the goals to make each dancer feel just as I've described. One of these special people is Central Pennsylvania Youth Ballet's very own seamstress, Jamie Cristali.
At the moment, Jamie is in the midst of preparing for CPYB's spring performance of Coppélia. While her schedule is still somewhat unruffled, I asked her to talk with me a bit about what goes on in her behind-the-scenes world as she prepares to help bring this delightful comedy back to the stage after a seven year hiatus.
Recreating the principal dancers' costumes, Jamie begins by seeing to it that the vision of both the choreographer and the artistic director are satisfied. A vital initial step — although Jamie admits that sometimes the first version, and even second, rarely gets selected as the final design.
Each costume is constructed knowing that it will be worn by a variety of dancers, which in turn means needing to fit diverse body types. Wider allowances are built into the seams and at the hemline, allowing for seams to be let out or taken in to streamline, flatter and lengthen the line of a particular dancer's frame.
Another factor Jamie considers as construction gets underway is the choice of fabric. She may not always find the exact fabric that was used in the previous costumes; so she turns to materials that will lay against the body as smoothly as possible, that bright stage lights will flatter, and cloths that will allow the dancer to maintain their full range of motion.
" … part of my costume became tangled in the netting of the scenery … I was caught … The scenery then started to slowly lift up …" –Jonathan Stafford, former NYCB Principal Dancer
Then there is cohesiveness. From modest tunics to elaborate skirts to colorful headdresses, costumers understand the value of a ballet's time period, including color. An out of whack combination of period designs and modern-day colors can create quite a topsy-turvy kind of tale, but not the classical fairy tale kind that true theatre-goers crave.
Female dancers typically enjoy costumes with a snug fit. So, Jamie pays pretty close attention to any design elements that could impede their ability to perform.
 " … my favorite costume and role was from 'Carnival of Venice.' … " -Vanessa Zahorian, SFB Principal Dancer
Partnering brings an added dimension. For instance, Jamie told me she works pretty hard to stay away from adorning around the waist of a female's costume: being partnered places added stress to this area, not to mention there is a pretty high potential for a male dancer's hand to get caught on it.
" … The next thing I know, my partner is behind me trying to hook my costume back up. It only had three hooks and two of them had come undone. ... " -Carrie Imler, PNB Principal Dancer
Before turning to her sewing machine and getting back to work, Jamie remarked that the last thing a costumer wants is for a dancer to have any worry about their costume. To that she adds that it serves her quite well being a good listener and remaining open to the ever-evolving process!
Thanks for the time, Jamie! We all look forward to seeing your beautiful work grace the stage this coming spring!
---
Writer's Note: I so enjoyed reminiscing about my own favorite costume, that I contacted a few CPYB alumni for what their most loved costume was. Two even shared a rather amusing wardrobe malfunction. Enjoy!
Vanessa Zahorian, San Francisco Ballet Principal Dancer: "I would say my favorite costume and role was from 'Carnival of Venice.' It was so comfortable, and I felt like a prima ballerina. Like a princess. I also remember loving George Balanchine's Dew Drop and Sugarplum fairy costumes from The Nutcracker. They were so beautiful, and I was honored to dance his choreography and to wear these beautiful costumes." 
Jonathan Stafford, former New York City Ballet Principal Dancer, current Ballet Master at New York City Ballet and permanent School of American Ballet faculty member and: "One time in a performance of George Balanchine's 'Vienna Waltzes' at New York City Ballet, part of my costume became tangled in the netting of the scenery as I tried to waltz off. I was caught standing onstage while everyone else had left the stage and was frantically trying to pull my costume out of the scenery. The scenery then started to slowly lift up for the next scene change, and I knew I had to free myself as soon as possible. I ended up ripping a big hole in the netting so I could escape the stage and possibly being lifted off the floor." 
Carrie Imler, Pacific Northwest Ballet Principal Dancer: "My most memorable costume mishap was when I was performing 'Le Corsaire' pas de trios. It was a gorgeous orange colored tutu and bra top costume. Suddenly in the middle of the pas de deux, the tutu started to feel loose. The next thing I know, my partner is behind me trying to hook my costume back up. It only had three hooks and two of them had come undone. Fortunately for me, one stayed hooked or that could have been a very embarrassing moment for me!"
Adrienne Schulte, former American Ballet Theatre Corps de Ballet Dancer: "I was fortunate to have a long career dancing with both American Ballet Theatre and English National Ballet, where I got to wear every style and length of costume, from turn-of the-century period dresses to contemporary technicolor unitards and every tutu in between. But what sticks in my memory was during my first or second year at ABT in Kevin McKenzie's production of the 'Nutcracker' where during the battle scene the tree ornaments come to life and get pestered and carried off by the mice. My costume was a giant, head-to-toe, foam GINGERBREAD COOKIE.  I could barely see or move! I did laugh a lot and receive a lot of 'sympathy' cookie gifts from my co-workers."