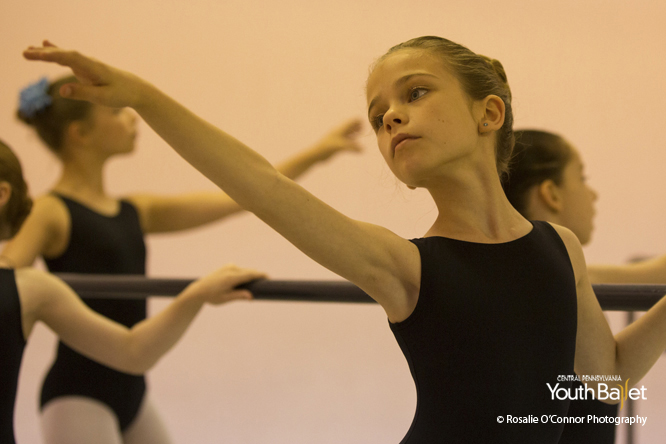 Everyday we fuel our children. We energize them with food. Recharge them by seeing to it they receive ample amounts of rest and sleep. Feed their little souls with love and laughter. We even supply them with all sorts of educational possibilities, both academic and beyond.
The beyond I am speaking of today is fueling your child's passion. Whether it is playing piano, partaking in sports, musical theatre or ballet, I have come to realize, and remain in awe of, the great lengths families go to to ensure their child's passions are not only being tended to but, hopefully, satisfied.
My family's decision to move to Carlisle was solely a professional career move for my husband. (Although the little one and I are more than benefiting from the transition as well!) But, there are copious amounts of families that literally go the extra mile to further enrich and impact the lives of their children.
No one family's choice is right or wrong. It is simply their own story about how they go about opening the door; affording that opportunity for their children to realize some day their hopeful dream.
Daily I am surrounded by a truly dedicated set of people. I wondered about their choices. Why they do what they do? How do they make it work within a family unit? The sacrifices? The immense pay-offs? No one family's choice is right or wrong. It is simply their own story about how they go about opening the door; affording that opportunity for their children to realize some day their hopeful dream.
I spoke to four families to gain insights into their story. Traveling anywhere from 80 miles a day to temporary moves from states away. All in search of something. Impeccable training. A place where students can fully realize their dreams. And, even see those aspirations come to fruition as so many before them have done.
The first mom began her story by telling me about a small rule she utilizes in many facets of her life: Whatever you do, or buy, strive for the top and get the best you can afford. I laughed as she went on to relate it to brushing one's teeth. "It is in your best interest to purchase a really great toothbrush," she told me, "along with top-notch toothpaste and then brush your best … every time." This same rule was brought into play when it became time to move her child from a more recreational into more vocational ballet training. "I've found it easier to go through life aiming high and adjusting than aiming low wishing I'd done better. I think you live life with fewer regrets in this fashion."
Another family took a leap of faith in moving states away for their daughter who once upon a time "walked on her toes and pirouetted everywhere, often declaring 'Mommy, I want to do ballet!'" From a community with limited training options, this mom decided to look into other possibilities, admitting she knew essentially nothing about ballet. So, she researched. She unearthed encouragement from other moms, as well as online reviews and feedback. It became apparent the time had come to take her child, who appeared to have a gift and natural talent, to another studio. How I love the fact that her hometown studio not only agreed with the move, but offered sound advice — the outcome would depend highly on what her daughter put into her training. Now, that's support!
Fueling a passion more often than not means tough decisions.
Then came the pesky logistics. "Our decision to relocate was not one we took lightly. There were many factors we had to consider. Would all the children come? What about dad? Can we sell or should we keep our house?" Well, I am happy to report all the logistics got ironed out completely and smoothly. And, that encouragement from another parent I mentioned earlier? This mom confesses, "It truly made a big difference for us."
"The miles we travel are simply numbers on our odometer," admits another parent. Making a studio move can mean a complete family commitment. With 80+ miles to and from the studio, this mom shared, "The growth we've seen in our daughter far outweighs any hardship that we may experience." With full-time jobs outside the home and more than one child in the home, many wonder how it can all be done. I know I do! For this family they are seeing the positive development taking place within their child: stellar ballet training, gaining confidence left and right, discipline. And, a firm sense of self that will benefit her throughout her life no matter her chosen profession.
Fueling a passion more often than not means tough decisions. Leaving behind your home, your community ties, family members, friends. Can you imagine? One family's choices stemmed from their wanting their child to not have regrets for not having tried it in the first place.
Mom said, "It's one thing for your child to say 'I want to be a professional ballerina.' It's quite another experiencing what it takes to do that."
For them it meant attending a new school. Although they are seeing their daughter growing physically, mentally, as well as emotionally, it was difficult as they were rather shunned by their hometown studio. Choosing to not get caught up in that, they moved forward and were elated when their new studio laid out exactly "what it would take from her as a dancer and us as a family to be successful in our endeavor." A plan was devised. Results are being realized in only a few short months. Ah, don't you love a happy ending?
Thank you to these families for sharing their stories. How about you? Would you share your insights for fueling your child's passion?
Writer's Note: Fueling your child physically? Check out Theatre Hour Dining and Prepping Your Dancer for a Day at the Studio.