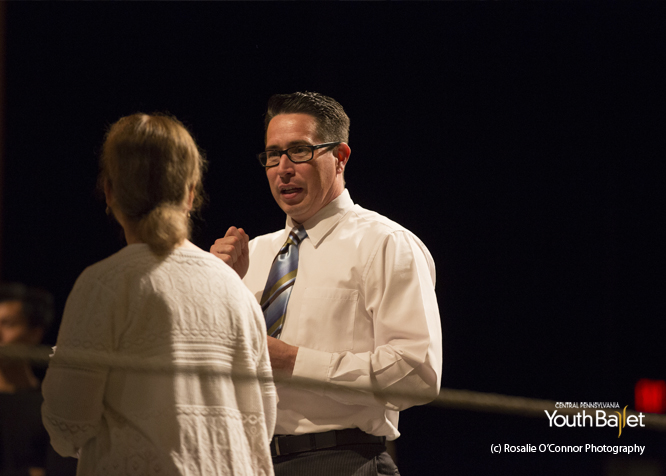 This is a particularly personal post for me. As the writer for A New Page blog, I have the opportunity to talk with many amazing people. This time I surprised my husband and asked him for an interview.
Never seen someone work as hard in the studio until I met him. Used to wonder if his love and passion for ballet could ever be topped. Amazed by his dedication to the art form and students alike, I have watched him flourish from a dancer to a teacher to a school principal and, now, to the CEO of one of the finest ballet schools in the country. This newest rung on the ladder is one he didn't expect so soon. A path not supposed, but one he is blazing ahead with so fiercely. A new role well earned with his goals to improving the lives of children through dance along with a commitment to improving the art of dance remaining, and always will, the same. Maybe you have heard of him: his name is Nicholas Ade, Central Pennsylvania Youth Ballet CEO.
It has been 10 months since Nick's appointment, so I decided to pop in on him — not really as his days are fuller now and finding an opening on that calendar of his can be pretty tricky — and ask a few questions.
A New Page: This year marks 10 years since you retired from the stage, how has going from a dancer to a teacher to a school principal to this position as a CEO changed your life?
Nicholas Ade: It's taught me to be malleable to change. If I'm constantly mindful of this, I believe I'll be able to do the best job. As a dancer there were always changes in choreography, as a school principal schedule juggling, and now as CEO already many adjustments during these first 10 months. It's going to happen, so I embrace it rather than fight it, which is wasted energy. That being said, even though I have a new position, my goals have not changed since I first came here three years ago. I've just always been as prepared as possible for the next view over the horizon. I went to school while I danced professionally, and that's where I started learning about being prepared for transitions.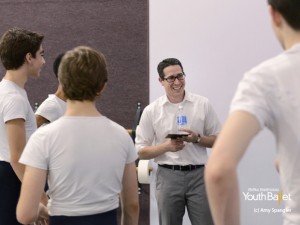 ANP: As CEO what are your future goals for CPYB?
NA: My vision is the same and runs parallel to Marcia's [Dale Weary] vision: to change lives through dance. CPYB is so very special because it's a place where the focus is to impact children's lives through the beauty of classical ballet. Ballet will always be a huge part of my life, and being administratively responsible for the best training school available has surpassed every dream I've ever had. I simply have different and greater responsibilities now. I must admit, though, there are times when I wish I could spend more time with students, like any parent wishes they had more time with their kids. Whether it's time spent catching up with them or helping them in classes and rehearsals, I love it when they just come to my office to check in. I'm the luckiest guy I know — so long as my priorities and ideals for CPYB as an organization respect its history and look at the future possibilities for everyone involved.
ANP: At one point you told me you hadn't even thought about becoming a CEO. What led you to decide that you were ready to take on the role?
NA: Good question. I suppose I didn't truly realize the possibility until last fall. I recall how throughout my time last summer as interim executive director, I ran full throttle taking in and learning everything I could. After several conversations with Marcia, coupled with my own "internal dialogue," I realized that this may just be my new path. And I realized that I was ready for the chance to impact the future of this great organization. So, to answer your question: this was a dream not yet realized.
ANP: In a single day your job spans the gap from balancing the budget to teaching the perfect execution of a brisé and everything in between. How do you mentally prepare for your days?
NA: First things first: half a cup of coffee and lemon water. Next I use the beginning of my day to address my physical well-being. CrossFit is currently my go to workout because of the intensity, plus it gives me time to share something each day with my wife — you. I work long hours; so whenever I can spend time with you keeps me motivated to be a better person. Some days my calendar is just plain daunting. Getting bogged down at the quantity or stress level of the work is very easy to do, so I'm retraining my mind. I focus on the possibilities of the day and exactly how I will accomplish them. You know, our daughter and I have a saying like General Custer in the movie Night at the Museum II, mimicking his southern intonation, "Attack the day!!"
ANP: What would you like your legacy to be for Central Pennsylvania Youth Ballet?
NA: For me this question has less to do about me but more for the organization as a whole. Oh, sure, I personally want to do a great job. But it's what we all do collectively that will make its mark; and it's my job to ensure that big picture strategy. I remember telling our marketing director one day shortly after becoming CEO, "Wow, I love this job!" It was because I felt as a staff we were coming together, gaining momentum, and working as a team with high expectations, which is at the root of CPYB's culture.
"That's what I want: to be known for our heart for young people in addition to our disciplined dance technique."
As CEO, I'd like to see CPYB's building expand — we need space. And, we're striving to be seen by our community for more than just what we do. Right now people know CPYB as a premier ballet school and recognize us on a regional and national level. In the last 10 months we've worked very hard to make those we come in contact with realize how much more we are than a school that teaches ballet. Much more. Sometimes we are a kid's family. For some we're their counselor. Their mentor. We shape and influence their lives, their values. We have a hand in who they become as people.  That's what I want: to be known for our heart for young people in addition to our disciplined dance technique. I'm not always going to make everyone happy. This I know. My personal legacy? To have done the job with the utmost respect for all those around me. Having a passion for the kids. A great disciplinarian. And, all done with tough love.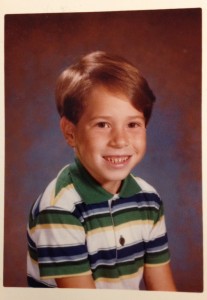 ANP: When you look at the photo to right of yourself and think about where you are today, what would you say to a little boy the age you were when you started to dance?
NA: That hard work pays off. You don't have to be the most talented. You don't have to run the fastest. You don't have to possess the best facility. But, you have to have a strong mind and a big heart. If you push hard enough and care enough, good things come. Don't ever feel as if you must navigate life all alone. Seek and surround yourself with people who will help guide you. Ones you can share all the nitty gritty with. And others who will always tell you the honest truth no matter the punch it may pack at times.
I'd tell that boy to always push harder to do the right thing. Listen to your closest friends and mentors. Oh, and that no matter what anyone tells you, the joy that ballet brings to you will never get old. You CAN make a living at it. On a lighter note (as a kid growing up outside of Los Angeles) I'd tell him that the Lakers will have some rough times, so just roll with it because there's only one Magic Johnson.