"There is a vitality, a life force, a quickening that is translated through you into action, and because there is only one of you in all time, this expression is unique…"– Choreographer Martha Graham to Dancer Agnes DeMille
New beginnings are intimidating.
Fear of the unknown. Tentative steps in the face of unfamiliar rhythms. An improvisational dance of sorts unfolds as we respond to the energies and accepted norms around us.
What are these customs? What is expected of me? What do I have to offer here, and how do I fit into the picture? I have so much to learn!
… And then, step by step, we find our place.
We adjust to the daily routines, and we make friends. We discover our way into our role in this place, at this time.
We're approaching the end of the school year at CPYB, and everyone's months of hard work will culminate in June Series.
The 4 days of mixed repertoire performances will feature original works choreographed by our students, a new Alan Hineline ballet, and several pieces by CPYB faculty member Melinda Howe, who is celebrating 40 years of dedicated teaching alongside Founding Artistic Director Marcia Dale Weary.
A number of Marcia's works will be presented, as well as one of her favorite ballets by George Balanchine, Raymonda Variations. Another of Balanchine's master works, Who Cares?, celebrates the energy and glamour of America's Jazz Age, and embraces the influence of Fred Astaire and Ginger Rogers, set to the brilliant music of George Gershwin.
With a few additional surprises, the performances will be an exciting and varied tapestry of color, music, style and atmosphere, demonstrating our student's versatility, strength and artistry. Ah, what joy comes from performing such exhilarating works and roles!
When I was dancing…
… I would occasionally get frustrated at what wasn't happening: the progress I wasn't making, the roles I wasn't getting, the work that I felt wasn't being recognized. I was very blessed to have parents who loved and supported me, but who also understood the nature of the art, and of life.
"Do you love to dance?" they would ask. "Yes," I would say.
"Then, just keep working," my dad would say, as my mom gently reminded me, "Everyone has their role that fits into the big picture. You can't have Swan Lake without all of the swans."
"Do you love to dance?" they would ask. "Yes," I would say. "Then, just keep working."
Mom never suggested that I stop striving for more, but she encouraged me to focus on all the wonderful things that were happening in my journey. Her wisdom always brought me back to my true self, and what really lives on in me is the love of the music, the camaraderie of my peers, and the sheer joy of dancing.
There will be no swans in June Series, but each one of our students has an important role in this amazing selection of ballets. Come celebrate their courage, dedication and talent!
---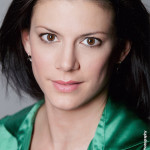 Amanda Edge is on the faculty at Central Pennsylvania Youth Ballet. During her professional dancing career – at New York City Ballet and on Broadway – she attended Fordham University, where she discovered a fondness for writing. She works as a répétiteur for The George Balanchine Trust staging a number of George Balanchine works.