On Wednesday, November 29, at 6 p.m., Central Pennsylvania Youth Ballet performed a variety of George Balanchine works at The Kennedy Center in Washington, D.C. as part of a week leading up to the Kennedy Center Honors.
Excerpts of Mr. Balanchine's works included Who Cares?, Western Symphony (2nd Movement), and dances from George Balanchine's The Nutcracker®.
CPYB student Lily Krisko was one of 16 students who performed on The Kennedy Center Millennium Stage. Listen as Lily describes her experience performing at The Kennedy Center with her fellow dancers at this point in her training at CPYB.
---
My Kennedy Center Experience | By Lily Krisko
Hello, my name is Lily Krisko. I am 14 years old and a proud dancer at CPYB.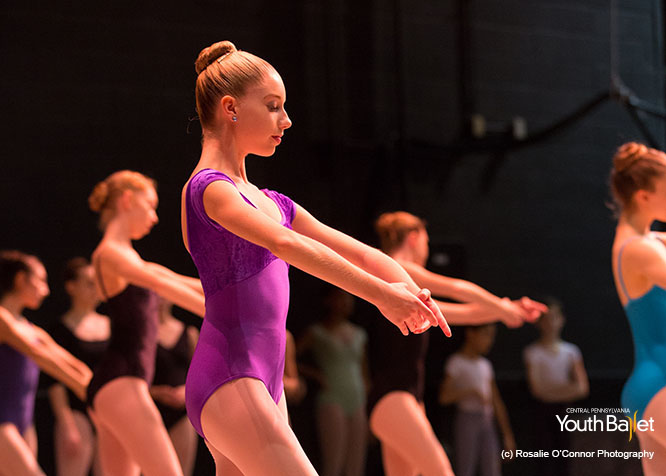 Being able to perform at The Kennedy Center for the Performing Arts in Washington D.C. was a surreal experience. To be on the same stage as some of the greatest performing artists in the world was a blessing, and to be with all my friends and family made it even more special!
"To be on the same stage [Kennedy Center] as some of the greatest performing artists in the world was a blessing!"
I think my favorite part of the evening was being around my fellow dancers before and after the show. Sharing those moments where we are all anxious and a little nervous is always exciting. We all know how much we prepare for each show so we just laugh and support each other.
When the music begins, we perform! But afterwards is the best. To see my fellow dancers laughing, smiling and crying tears of joy is beautiful. To see all the love and support we give each other is amazing; it is a very special moment between the teachers and dancers. I am so blessed to have had this opportunity. Thank you, CPYB!
Learn more about CPYB performances at CPYB.org/performances.