Meet Daniel Clepper, a young CPYB dancer with big dreams — like becoming the future President of the United States!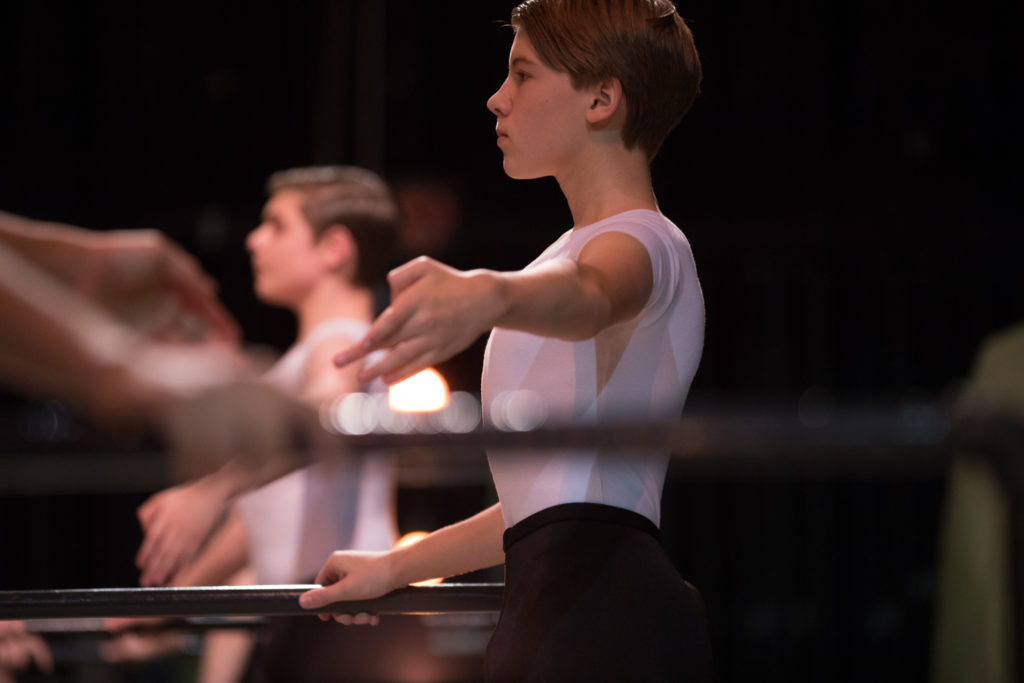 Daniel Clepper
Age: 14
Hometown: Boiling Springs, PA
Years at CPYB: 6
---
About Dance
How did you find dance, or how did it find you?
In first grade, I was offered a scholarship through DiscoverDance. I had no idea what I was getting into at the time, but now I can't imagine my life without ballet.
What's so special about CPYB for you?
The men's program and Marcia. She taught me how to work hard.
What have been some of your favorite pieces to perform here at CPYB? 
Spanish in George Balanchine's The Nutcracker®, Mandolin in Alan Hineline's Romeo and Juliet, and Jean Williams' Sunday Afternoon in the Park from Founder's Series.
What is your favorite dance step?
Pirouette and tours.
What's your favorite part of your day?
Men's class.
What's a must have item in your ballet bag?
Definitely hairspray. Marcia would always threaten to put a Bobby pin in my hair to keep it out of my face.
Who are your favorite choreographers?
George Balanchine, Gennadi Vostrikov and Marcia.
Favorites
Favorite animal?
Monkeys.
Favorite food?
Wings.
Favorite quote?
"I walk slowly, but I never walk backwards." — Abraham Lincoln
Favorite ice cream flavor?
Salted Caramel
Favorite local restaurant?
Five Guys.
Favorite song currently?
"Ultralight Beam" by Kanye West.
Everything Else
Where do you see yourself in 10 years?
Teaching at CPYB and on my way to becoming CEO. (Watch out, Nick!)
Something you could never live without?
Ballet. It's hard for me to go a week without it.
Which fictional character would you be?
Probably Spongebob Squarepants. He can shape shift and take any hit thrown at him.
Three words to describe you?
Energetic. Crazy. Funny.
If someone had to play you in a movie, who would you choose?
Myself.
Your biggest fear?
Rats, their long skinny tails and yellow teeth creep me out. There is nothing good about them.
Any hidden talents?
I love to skateboard and I can recite the Preamble and the Gettysburg Address from memory.
What books are you reading these days?
My mom makes me read classics. This semester I've read the Phantom Tollbooth, The Hiding Place: The Triumphant True Story of Corrie Ten Boom, Where the Red Fern Grows and Little Britches: Father and I Were Ranchers. Right now I'm reading The Lost Causes of Bleak Creek just for fun.
Who is your greatest role model?
My dad. He is the hardest working man I know.
If you had a superpower, what would it be?
Flight.
What's one thing you want to do before you die?
Become the President of the United States.
Last show you binge watched?
"Regular Show." I've watched the whole thing at least three times.
What did you have for breakfast?
Cereal. My favorite is Fruity Pebbles.
Coolest place you've ever visited?
Tijuana, Mexico. My family took an RV trip across the USA to visit my grandparents. We spent Christmas Day at their orphanage and it was the best Christmas ever.
What's your dream car?
Tesla Model 3.
Dogs or cats?
Dogs, of course.