Welcome to the first installment of our new Meet & Greet series! In this biweekly series, we will introduce you to our dancers, staff, faculty, donors, and more! We want to bring you into our world – peel back the curtain – and allow you to truly get to know the faces of Central Pennsylvania Youth Ballet.
---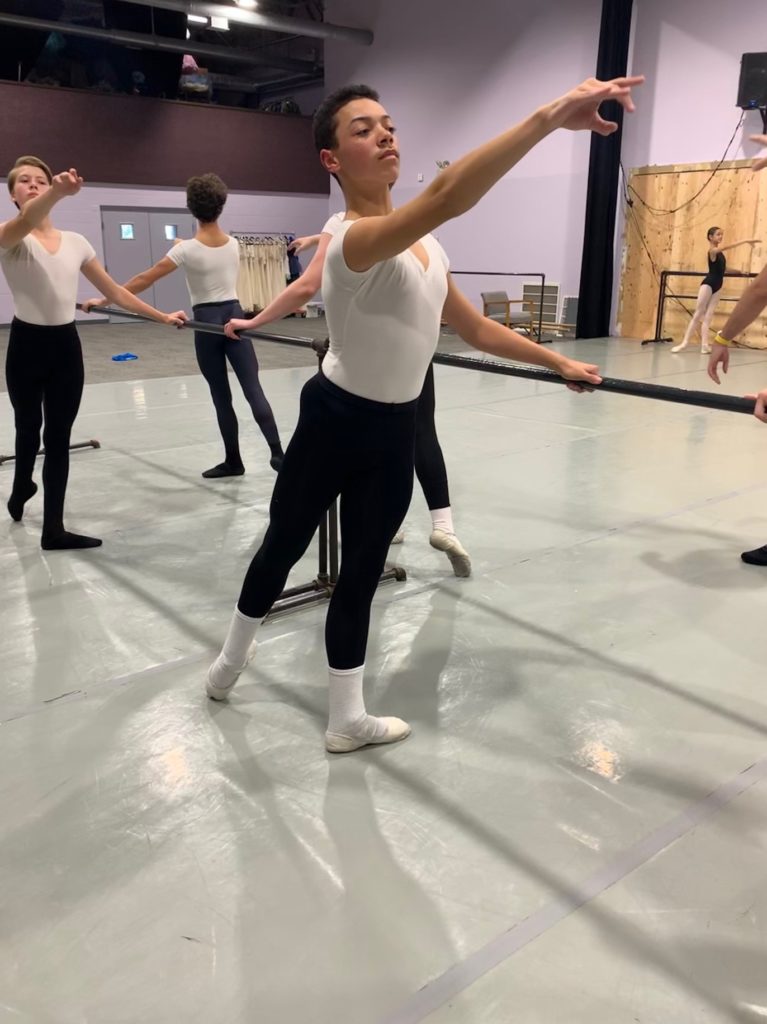 Ethan Blakeney
Age: 15
Hometown: Reading, PA
Years at CPYB: 2
---
About Dance
How did you find dance, or how did it find you?
Ethan: Before I could even walk, I was dancing. I would hang on to the coffee table and dance. Sometimes things find you before you realize. At the age of eight, I wanted to dance, so I tried the competition team. I made it in because I strive for the things I want and I knew it was meant to be.

What's so special about CPYB for you?
CPYB is special for me because I know it's the step that going to help me "make it."
What have been some of your favorite pieces to perform here at CPYB?
Romeo and Juliet and George Balanchine's The Nutcracker®.
What is your favorite dance step?
My favorite dance step is most likely a saut de chat. I feel so controlled, but also free.

Who are your favorite choreographers?
Justin Peck and George Balanchine.
Favorites
Favorite/spirit animal?
A crow. It's mysterious. It also does what it pleases.
Favorite food?
Spaghetti.
Favorite quote?
"Life isn't about waiting for the storm to pass. It's about learning to dance in the rain."

Favorite ice cream flavor?
Cotton Candy.

Favorite Carlisle/local restaurant?
The Pizza Grille.

Favorite place you've ever visited?
Disney World!
Everything Else
What's your favorite part of the day?
This is kind of odd, but night. I feel most like myself.

What is something you could never live without?
Coffee.

Name three words to describe you.
Curious, unique, creative.

What's the best advice you've ever received?
The best advice I ever received was to not concentrate on everyone else. Just do it the best way I can. Be the best me.

Where do you see yourself in 10 years?
I see myself either in a company, or as a choreographer in the next ten years.

What books are you reading these days?
Realistic fiction and fiction. I also loved reading Anne Frank: The Diary of a Young Girl.

Which fictional character would you be?
Olaf.

If someone had to play you in a movie, who would you choose?
Cameron Boyce.

What's the last song you played on Spotify?
Beethoven's Moonlight Sonata.

If you had a superpower, what would it be?
Teleportation, so I could get to dance faster.

What is the scariest thing you've ever done?
Walked out of the dorms during my summer stay at Joffrey Ballet School in New York City to buy cupcakes.

What's one thing you want to do before you die?
Go parasailing.

Who is my greatest role model?
Derek Dunn.

Describe your style.
I don't like to be labeled.

What's the last show you've binge watched?
13 Reasons Why.

What did you have for breakfast?
A protein shake.

What's your dream car?
Whatever I earn. I like to be appreciative.
Pick one: dogs or cats?
Dogs.