It's not uncommon to hear a chorus of children shouting "Miss Rose!" each afternoon, a sound that echos throughout the halls of Central Pennsylvania Youth Ballet's Warehouse Studios. "Miss Rose," of course, is none other than Rose Taylor, CPYB's Children's Division Coordinator. Rose joined our team nearly 4 years ago, and we think you'll love her just as much as we do! Check out her interview below.
---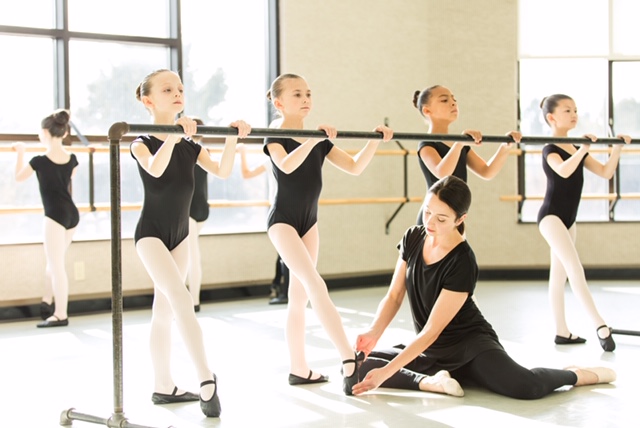 Rose Taylor
Age: Hmmmmm. Nope.
Hometown: Kansas City, KS
Years at CPYB: Going on 4 years
About Dance
How did you find dance, or how did it find you?
There was a dance school in the same building where my brother took guitar lessons. I begged to take classes and my parents agreed since I already danced around the house nonstop. From the beginning, I only wanted to specifically do ballet, so that was that!
What's so special about CPYB for you?
Something that is very special and unique to CPYB is how incredibly valued the youngest dancers are. Marcia created a culture that nurtures children and a syllabus that masterfully challenges and inspires their technical growth and development. Regardless of age, students are held to the same high standards and expectations. Little ones are capable of executing a perfect tendu. Why wait??? It's wonderful to see an organization give their 6-year-old students the same level of attention, priority and dedication as their advanced dancers.
What have been some of your favorite pieces to perform here at CPYB?
I love the history and tradition of Marcia's Balancés ballet, which showcases the first level of the syllabus. All young dancers perform this ballet as a right of passage and all alumni easily and fondly recall the steps.
What is your favorite dance step?
Anything turning, specifically to the left.
What's a must have item in your ballet bag?
My teaching bag? That's easy. Anyone at CPYB knows that I must have spike tape and scissors! Marks keep my little dancers organized.
Who are your favorite choreographers?
So many! Michel Fokine, Marius Petipa, Antony Tudor, George Balanchine, Alvin Ailey, Jiří Kylián.
Favorites
Favorite animal?
Anything fuzzy or fluffy. I have a lifelong love of cats and dogs.
Favorite food?
Mexican, Italian.
Favorite quote?
"Sometimes you will never know the value of a moment, until it becomes a memory." – Dr. Seuss
Favorite ice cream flavor?
Chocolate/Vanilla swirl.
Favorite local restaurant?
Brick and Napoli Pizza.
Favorite song currently?
"The Eye" by Brandi Carlile.
Everything Else
What's your favorite part of your day?
My morning walk with my husband, Curt, and our pup Leo.
Where do you see yourself in 10 years?
Much of the same.
Something you could never live without?
Puppy snuggles, music, coffee, to-do lists
Which fictional character would you be?
My CPYB family would say Snow White.
Three words to describe you?
After conducting a brief survey: Thorough, nurturing, funny and I'll add "worrier" — am I answering these questions okay?
What's the last song you played on your phone?
Nutcracker, just kidding. Eddie Vedder – Ukulele Songs; Mendelssohn – Songs Without Words
If someone had to play you in a movie, who would you choose?
No idea. Suggestions?
What's the scariest thing you've ever done?
Going back to graduate school at the University of Oklahoma (OU), which turned out to be one of my better decisions. Boomer!
Your biggest fear?
Taking that first step/change… then I'm off and running; being underprepared; I also am not a fan of spiders.
Any hidden talents?
I have a surprisingly strong throwing arm. I'm from a baseball family, so competitive distance throwing was just part of growing up.
What books are you reading these days?
Does my Nutcracker binder count? It should!
Who is your greatest role model?
My mother, my childhood ballet teacher Jane Pierce, Mary Margaret Holt at OU and of course, Marcia. I've been extremely lucky to learn from so many incredible women!
If you had a superpower, what would it be?
To clean my house in the blink of an eye.
Describe your style.
Classic. My normal day-to-day must be functional. Basically, my outfit must go well with the floor since I spend most teaching hours on my hands and knees fixing tiny tendus.
What's one thing you want to do before you die?
Eat my way through Italy.
The best advice you've ever received?
"Get on that plane!" It's simple, straightforward advice from my mother and her way of saying, "Just do it!" I'm pretty sure this initially was said when I was nervous about my first summer away from home. The phrase reappears anytime I'm overthinking and anxious to start something new or there is a big change is on the horizon. Stop worrying and "get on that plane!"
Coolest place you've ever visited?
Austria. Wimberely, TX for peace and quiet.
Last show you binge watched?
I LOVE This is Us but we also finally watched Game of Thrones.
What did you have for breakfast?
I have the same thing every morning. Chobani Passion Fruit Yogurt and coffee. I'm not much of a breakfast person.
What's your dream car?
Something self-driving so I could get more work done… or maybe take a quick nap.
Have you ever cut your own hair?
No, but my sister tried many other at-home beauty experiments growing up.
Cats or dogs?
I have one of each. A very special kitty who has been with me for 19 years and my pup Leo who fills life with sunshine and happiness.