FirstSteps, a Student Choreographic Workshop directed by Alan Hineline, further enriches the training of Central Pennsylvania Youth Ballet dancers beyond the traditional student/performer boundaries. Students have the unique opportunity to learn elements of classical composition and explore how to organize and illuminate their thoughts while working with dancers in a leadership role. Following this workshop, four students were selected to produce their new, original works starring fellow CPYB dancers.
We are proud to announce this year's FirstSteps student choreographers: Andrew Buckley, Sky Byrd, Rowan Treece and Giana Parlin!
We asked each of these students a few questions about their experiences so far. Read on to learn more about what they had to say!
---
WHERE DOES YOUR INSPIRATION COME FROM?
Rowan Treece: I generally gather a lot of inspiration from my music. Because I've been dancing for so long, I often see music as movement without even realizing it, and the steps I hear in the music are usually the starting place for my choreography. This is my first time actually choreographing dancers, and I've really enjoyed drawing inspiration from them as well!
Sky Byrd: I have participated in many choreographic works by fellow students. I always felt so inspired and enjoyed the process immensely, so I thought I would give it a try as a choreographer. On the first day of rehearsals, my mom gave me a little token that said "You were born to fly." I carry it in my pocket every day and when I'm feeling stuck about what to do next, I say those words to myself over and over in my head. I instantly feel inspired again.
WHAT SKILLS/QUALITIES DO YOU HOPE TO TAKE FROM THIS EXPERIENCE?
Giana Parlin: I am only halfway through the process and already know the experience of FirstSteps has given me so much more than just learning how to choreograph. Of course as a dancer, I've been inspired by the way my dancers take movement and incorporate artistry into it. Yet as a person and choreographer I've learned how powerful positive encouragement is, how to be assertive in overwhelming situations, to share my ideas and not compare them to others, and most of all, that it's okay to not always have an answer.
Andy Buckley: I hope to learn how to become more of a leader and become more assertive through this creative process.
WHAT MUSIC DID YOU CHOOSE, AND HOW DID YOU FIND IT?
Sky Byrd: The music I have chosen is "I giorni" & "giorni dispari" by Ludovico Einaudi. I was scrolling through Instagram not looking for anything particular and a ballet video using a song by Einaudi showed up in my feed. I looked him up, went through all of his songs, and eventually came across my music.
Andy Buckley: I chose "Porz Goret" by Yann Tierson and "Nightbook" by Ludovico Einaudi. I first discovered the composers, and after delving more into their work, I found the music I wanted to use.
WHAT IS THE MOST CHALLENGING ABOUT THIS PROCESS? WHAT'S THE MOST REWARDING?
Rowan Treece: The most challenging part of this process is probably the time constraint. I would love to have more time to experiment with choreography, polish, and develop my piece further. The most rewarding part is definitely seeing something that you've imagined come to life in front of you, especially when it works as well as you hoped it would.
Giana Parlin: The most difficult aspect of FirstSteps has been taking all the ideas in my head and articulating them to my dancers. Thankfully, I've been blessed with such an understanding and patient group of people. This process certainly has its ups and downs, but the most rewarding part is watching my dancers thrive in something I created. It's such a powerful thing to watch a group of people, so connected and dedicated, progress together, and enjoy the outcome.
WHAT DID YOU CONSIDER WHEN SELECTING THE CAST FOR YOUR PERFORMANCE?
Giana Parlin: I was looking for intelligent dancers with good movement quality and their own artistry that they bring to my piece. In selecting casting, I was searching for people with movement and port de bra that could match the expansive music I selected.
Sky Byrd: Before the choreographic process even started, when listening to my music, I knew that I needed dancers with a very fluid and flowing style. The music is very passionate and heartfelt, and I knew I needed dancers that could make this music come to life.
DESCRIBE HOW IT FEELS BEING AT THE FRONT OF THE ROOM, DRIVING THE PERFORMANCE FORWARD.
Andy Buckley: This is definitely nerve-racking and I've never pictured myself being able to do it, but it has slowly brought me out of my shell and I'm grateful for that!
Rowan Treece: I actually really enjoy being at the front of the room in a rehearsal. While it can be stressful to have everyone looking to you for answers, and sometimes frustrating when you're having trouble getting an idea across or making something work, I've had a lot of fun working with my dancers and creating something together. The experience has actually convinced me that I'd like to try my hand at teaching someday.
---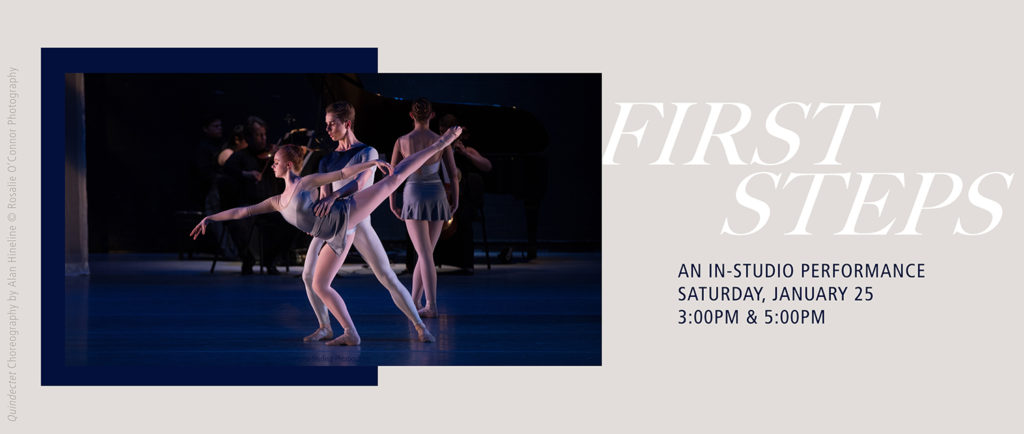 Join us at this weekend's performance to experience the talents of our student choreographers. Get your tickets for CPYB's FirstSteps today!