AUDIO BLOG. Getting ready for a summer intensive? Well, perk up your ears and sit up straight. Whether this will be your first summer intensive or your third, listen up. I want you to have the most fulfilling experience possible!
To be read on your first day of your summer intensive.
Dear Summer Intensive Student,
You received your acceptance letter and you have now arrived at your destination – your home for the next few weeks. I remember the experience clearly, but I now stand in the front of the room. As your dedicated and committed teacher, I want to communicate to you some key factors to keep you on your toes this summer.
First on the agenda is placement class. Don't let your excitement take over. You will be nervous, but try to relax in order for us, your teachers, to place you in an appropriate level for your ability. Levels vary from school to school and so do curriculums and teaching styles. With that being said, don't expect that you will automatically be placed in a level that is equivalent to that of your studio at home. You will be placed in a level where you will learn and benefit from the most. Trust your teachers. After all, you are the reason we are here.
Trusting your teachers takes me on to my next topic. More often than not, every ballet teacher was a dancer once, too. Have faith in me. Learning won't occur if trust isn't present. Be a sponge and absorb my knowledge and years of experience that I so want to pass along to you. In the end, your success is my success.
" … make this a summer to remember."
Summer intensive has its name because intense it is. You will be exhausted. More rest than usual will be needed. And, fueling your body by eating right is mandatory. The amount of sleep you get coupled with what you put in your body greatly impacts your performance. You can loosen the reins a bit on the weekends, but when you are good to your body, it will typically return the favor.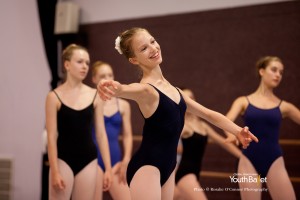 Joining you in this year's summer intensive will be many other talented dancers from all over the world. Use the opportunity to meet new people and make new friends. You can learn from them and encourage them, be supported by them and create lifelong relationships. If you get to feeling down or overwhelmed, turn toward some of the school's year-round students for additional encouragement. You never know; you may even end up sharing the stage with them someday.
In closing, please make this a summer to remember. Whether you traveled across the street to get here or the entire U.S., I know that you want to make everyone back home proud. But, I want you to be proud of your successful journey and how far you will have come in just a few short weeks. And when you do return home, your smile — along with your technical improvements — will speak for themselves!
Sincerely,
Your Summer Intensive Teacher
Writer's Note: Click faculty for a listing of some of the CPYB 5-Week Summer Ballet Program faculty.