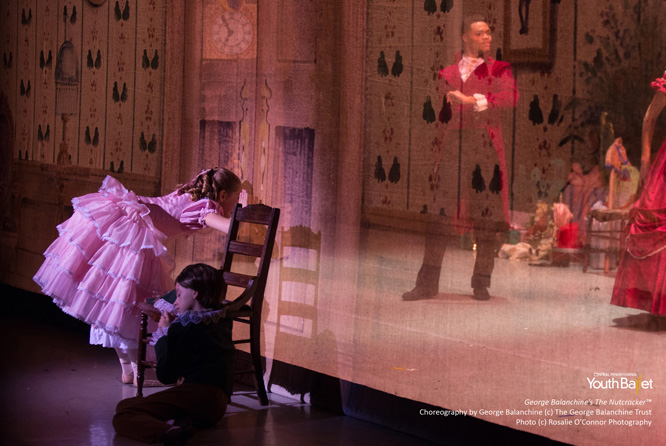 After reading this delightful piece written by returning guest blogger Diane McCormick, I promise you'll never look at another keyhole the same. Central Pennsylvania Youth Ballet's past "Nutcracker" Maries — Tina LeBlanc, Anna Gerberich, Julia Rowe, and Grace Anli Snyder — discuss with McCormick their peeks through the keyhole. Their journey. The take aways. Lessons learned. And, life now on the other side of that keyhole. To all Maries past and those yet to come, enjoy!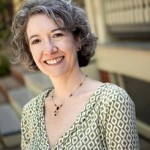 The first time she played Marie in George Balanchine's The Nutcracker™ for Central Pennsylvania Youth Ballet, Grace Anli Snyder loved the new dress made just for her. But in the scene where the children spy on the grown-ups preparing for Christmas, she was disappointed because she didn't peek through a genuine keyhole.
"We were looking through a big scrim," she says now. "I thought we would have an actual door with an actual keyhole. The reality was, I could see everything behind it."
"For me, peeking through the keyhole is looking back at where I started and how far I've come …"
Snyder recovered from her disappointment. Her role as Marie in three CPYB productions, plus turns in major solos as she matured, prepared her for her spot today as an Alabama Ballet company member.
"For me, peeking through the keyhole is looking back at where I started and how far I've come," she says. "It's so strange because it feels like I was an angel just yesterday. It feels like I was Marie just yesterday. I'm an adult on the other side of the door now."
In George Balanchine's The Nutcracker™, Marie takes a magical journey awash in emotions – joy, awe, anger, delight, even heartache. It's a journey that mirrors every girl's passage from child to young woman. For CPYB dancers, playing the role of Marie also embraces their growth as dancers, as they step from stage struck little girls to featured dancers striving for the next challenge. The peek through the keyhole offers a glimpse of the dancing life, and even with the hard work and challenges ahead, they choose to step through and make it their own.
For Anna Gerberich, CPYB's 1998 and 1999 Marie and now a Charlotte Ballet principal dancer, the onstage peek through the keyhole with the dancer playing her brother, Fritz, was filled with anticipation.
"When the curtain goes up, it's just you and Fritz on stage in front of that keyhole," she says now. "It's your moment. You're trying to get your nerves under control. Then Fritz pulls at you and starts teasing you, and it just becomes so real, and you forget that the audience is there."
Marie's time alone onstage is essential to the development of young dancers, teaching them to carry a production and project the essence of a character. CPYB alumna Tina LeBlanc is a beloved retired principal dancer with the San Francisco Ballet and now a teacher with San Francisco Ballet School. Playing Clara in CPYB's pre-Balanchine Nutcracker made her realize that she could "act like a real person."
"I had to act to carry the story," she says. "At such a young age, I probably had no fear, so I could explore that artistic side and get comfortable with it."
Julia Rowe, a member of the San Francisco Ballet corps de ballet and former Oregon Ballet Theatre company member, agrees that her 2001 and 2002 turns as Marie taught her "how to deal with being the only one on stage."
"You have to make it interesting," she says. "You can't let down for any moment, because you're the only person on stage."
Snyder learned to put a bit of herself into the role, playing a "feisty Marie." That spunk almost got her in trouble, when she and her Fritz tussled and pushed each other off a chair during the overture, suddenly scrambling to take their places just as the curtain rose. But the spunk has "always been inside me," she says. "CPYB always encouraged us to do what's natural, within certain boundaries."
The joy of live performances included learning to recover from technical glitches. Snyder dealt with a bed that got stuck on its way offstage. LeBlanc once decided to kick her leg "really high."
"Unfortunately, the hem of my nightgown was not stretchy, so as I kicked my leg, it ripped my supporting leg out from under me," she remembers. "Down I went!"
"Being aware of the audience allows one to feel the energy passing between audience and performer … "
All of her CPYB performances "opened up a world for me," LeBlanc says. "Being aware of the audience allows one to feel the energy passing between audience and performer, but the fun part is figuring out how to pull them in and make them live the dance with you."
Every year, at CPYB and dance companies worldwide, performances of George Balanchine's The Nutcracker™ constitute a passing of the torch, as young dancers first play angels, then get tapped to play Marie, and finally graduate to soloists. The glitter never drops from their eyes, but they look up to the older dancers and see that hard work will take them to the next level.
LeBlanc remembers that a gift from the dancer playing the Sugarplum Fairy "made me feel really special." Rowe recalls playing an angel, awed by the Sugarplum Fairy of the explosive Ashley Bouder, now a principal dancer with New York City Ballet. The Nutcracker is "an obvious rewards system," Rowe says. "If you work hard enough and you put in the time and the effort, you can progress through the ranks."
Rowe now realizes, from her peek through the keyhole toward the professional life ahead, that her CPYB years were "similar to the environment I dance in now," where the payoff for grueling rehearsals is the magic of performance.
"You learn how to dance to your fullest not only for that year's performance, but for the next year and the next," Rowe say.
Gerberich loves seeing the children getting ready to perform in Charlotte Ballet's The Nutcracker every year.
"The first time they're backstage with the sets and the fog, they're almost in awe," she says. "Their eyes are almost as big as their faces."
Rowe is still amazed to perform San Francisco's Nutcracker every year. Better yet is the moment in the lobby after performances "when you see all the little girls and see their faces light up, and you remember why you're doing what you're doing." She sees herself in those little girls, and they may someday follow in her pointe shoes.
"After 15-plus years of doing the Nutcracker," says Rowe, "I still love it."
Diane McCormick is a Harrisburg-based writer and lifelong lover of the arts. She is a regular contributor to the Harrisburg Patriot-News/pennlive, Harrisburg Magazine, The Burg, and Susquehanna Style. For other posts by Diane, visit:
Of Mice & Memories: Nutcracker Threads Through CPYB Alumni Dance Careers
Summer to Success: Students Grow by Leaps and Bounds
Storybook Ending: Hansel and Gretel Leaps from Page to Stage