"You're traveling through another dimension, a dimension not only of sight and sound but of mind. A journey into a wondrous land whose boundaries are that of imagination."
With the opening narrative of every "Twilight Zone" episode, Rod Serling left no doubt about what was ahead. We weren't really meeting aliens or seeing gremlins on plane wings or matching wits with malevolent ventriloquist's dummies. We were battling our own imaginations, where fear lurking in murky corners has the power to make us question the line between reality and make-believe.
With its blend of music, costumes and dancers trained in defying gravity, ballet can give an otherworldly cast to the corporeal.
But as even Serling knew, committing that intersection of fear and imagination to story form can be tricky. One false move, and the illusion is shattered. Perhaps that is why, of all the art forms, ballet succeeds where others fail. With its blend of music, costumes and dancers trained in defying gravity, ballet can give an otherworldly cast to the corporeal. Dancers take form as spirits and fairy princesses, swans and life-sized nutcrackers, and audiences, wholeheartedly, capitulate into believing.
Since its debut in 2002, Central Pennsylvania Youth Ballet's The Legend of Sleepy Hollow has grown in stature. It is a staple in CPYB's repertoire, and a Halloween favorite of dance companies nationwide. As the air takes on a chill, audiences ask for spooky thrills, leavened with a dollop of humor. "Sleepy Hollow" delivers.
Choreographer Alan Hineline, then CPYB's resident choreographer, said it was an easy call to turn Washington Irving's enduring short story into a ballet. The characters and their dilemmas are recognizable, even from 18th-century America. However, the legends and folklore that color their world aren't familiar to 21st-century audiences, so Hineline added new characters who could "help us understand the legend."
Hence, meet The Hollows. They represent the departed spirits of the village, guarding over its heritage and, when necessary, directing the living to do their bidding.
Giving life to that illusion of otherworldliness on stage wasn't always easy, especially during the first production. CPYB alumna Rachel Maher danced the Principal Hollow in the "Sleepy Hollow" premiere. Unlike established productions, the new show demanded trial and error in rehearsal as it came to life. Maher remembers a steep bridge that had to be rebuilt when the dancers' pointe shoes kept slipping. She also had to throw a cloth over fellow performers to put them in dream states, but the cloth refused to cooperate in dreamy fashion and often floated away.
"We were actually weighting the fabric in the corners, trying to figure out a way I could throw it and walk away without forcing it on their heads," said Maher, who danced for 12 seasons with the Pennsylvania Ballet until retiring in June 2016. "Usually, you have preconceived costumes and sets that you know work already. You just have to learn for yourself to make it work for you, but this was interesting because it was a process on both sides that we had to figure out together."
Maher and her self-described "freaky hands" with backward-bending fingers suited Hineline's creation of what are now called "Hollow hands," a carriage meant to convey a haunting posture. "Each dancer in front of me during the choreographic process has a collaborative impact on the final product," Hineline said.
Today, CPYB student Sarah Clarke takes such physical cues to bring out the spookiness in her role as a Hollow. Ballet dancers often play ethereal characters, seeming to float off the ground, but the Hollows occupy a sort of netherworld, residents of the spirit world whose feet remain planted in the earth where they were buried.
Clarke finds that dance, in all its ethereal nature, can transport her, just as it does audiences. 
"We're supposed to be a sort of guardian angel, but more on the creepy side," said Clarke. "We have to move our arms around a lot so we're almost floating over the surface of the earth, but at the same time we're very low to the ground.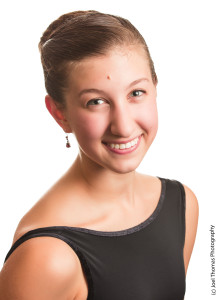 Clarke, of Dillsburg, is in her second "Sleepy Hollow" production. With every CPYB performance, she is sharpening her acting skills, making each moment seem as though "it hasn't happened before and you haven't rehearsed it five billion times." She has learned to attend each of those five billion rehearsals with a new backstory for her character in mind, perhaps pretending that her Hollow is the mother of one of the hooligan Sleepy Hollow Boys and hoping he'll mend his ways.
"It's your little secret that nobody else knows," she said. "You can elaborate on it as much as you want, because you're not telling anyone."
Washington Irving's original story is "one of the great pieces of American folklore, one of the first pieces of American folklore," Hineline said. "It leaves a lot to your imagination. He never says at the end if there is actually a Headless Horseman."
Irving's ambiguity left room for Hineline to carve out a more definitive ending, but there's still room for the imagination to roam. "At the end of the day," Hineline noted, "the most I as an artist could hope for is that it makes someone think."
"It's about enjoying yourself in the movement and creating something beautiful to give to an audience … "
CPYB teachers, choreographers and staff marvel over the growth of their dancers, said Hineline. In such full-length ballets as "Sleepy Hollow," students learn difficult steps, but by the time of staging, "the steps are secondary to the story, and through that their dancing really grows. They start to understand this is not just the pique arabesque, but they are expressing themselves as artists."
It is, he said, "a big part of the transition, of taking them from being students to someone who's ready to go on professional stages throughout the world."
Clarke is a high school senior who will soon be auditioning for professional companies. CPYB has taught her to "to just keep going."
"Sometimes you want to be lazy," she said. "You want to be slacking and don't feel like doing something, but if you just do it you feel so much better about yourself and what you've accomplished. As I'm learning and struggling, I get frustrated. I have to remind myself that I'm doing this ballet which I could not do three years ago if I tried. I keep reminding myself how far I've come and if I'm having a bad day, because everyone has bad days, just to keep going because it gets better."
Today, Maher is a teacher with Budzynski Studios of Ballet, Doylestown, Pa., and ballet mistress for its performing company, Budzynski Ballet Theater. She also teaches with The Philadelphia Dance Academy. She instills the strict technique she learned at CPYB while reminding students to "find your joy in the ballet."
"It's about enjoying yourself in the movement and creating something beautiful to give to an audience," she says. "Unless they're really trained, the audience will appreciate movement quality more than the perfection of the technique. That's what affects people."
Clarke finds that dance, in all its ethereal nature, can transport her, just as it does audiences.
"It takes you to another place, and you kind of forget what's happening in the world," she said. "You can focus on what you're doing in that moment. I think that's really special. A lot of people can't do that today, because they don't have that thing that takes them away from reality."
Diane McCormick is a Harrisburg-based writer and lifelong lover of the arts. She is a regular contributor to the Harrisburg Patriot-News/pennlive, Harrisburg Magazine, The Burg, and Susquehanna Style.