Snap, goes the shutter of her precisely positioned camera. Once. Twice. Maybe three times over capturing yet another astonishing photograph of a dancer. Today I am fortunate enough to speak with the wildly successful freelance photographer Rosalie O'Connor.

With a client list as long as the ocean is deep, what sets Rosalie's work apart from the rest is more than likely her well-developed insider's eye. Rosalie was a professional ballet dancer with American Ballet Theatre. It was nine years into her 15-year career when she was approached to begin photographing the happenings inside the studio walls at work. This opened a door and was the beginning of her 'second stage' in life.
I have taken on an extraordinary volunteer role of previewing photographs that Rosalie takes of the talented Central Pennsylvania Youth Ballet students. On those days that I am called to duty, my excitement to peruse these captured moments in time mimics that of a child on the night before Christmas.
When I view Rosalie's pictures, I am transported back into that moment. Like an audience member seated in the front row. Hearing the dancer's breath. Feeling the dynamic energy. Sensing the passion for the art form.
How does she do it? How do her photographs exude so much emotion? Well, I am about to find out. Join me as Rosalie and I talk photos, favorite moments and …
A New Page: What is it about your photography style that allows you to capture so much emotion within a single shot? Is it timing? A passion for the art form? Your dance experience? Let us in on your secret.
Rosalie O'Connor: My secret is simple. I absolutely LOVE photographing dance. In fact, I love photographing period. Having danced in the corps de ballet of ABT, I really honed my peripheral skills. As a dance photographer I have applied the ability to see the big picture while photographing. All those years of watching and breathing together truly became a valuable asset for my second career. Dance has been almost my entire life. Every image that I take is informed by a lifetime of experience. I am extremely fortunate to have a second career that I love as much as my first career.
ANP: Having been a professional dancer yourself, do you ever feel the movement of a dancer within your own body, which then communicates to your brain and then your finger as to exactly when to snap the camera?
RO: Yes, I do. I sometimes dance the steps in my mind as I am photographing. My muscle memory as a dancer understands and knows the coordination needed, so I can do certain steps in my head as I am photographing to be even more precise in what I capture.
ANP: You take in so many performances behind your camera. Do you ever have the time to enjoy them as simply a ballet-goer?
RO: I actually find it very difficult to attend the ballet without my camera. So far, I am unable to turn off my constant composing/framing of everything I see. As an example, watching Wendy Whelan's farewell performance at New York City Ballet was a tough one! I have always loved watching Wendy dance, and the few times I've worked with her as a photographer have been a real dream. Her performance that evening was magical.
ANP: I am guessing you have shot hundreds of performances of The Nutcracker. How do you approach yet another performance of it with a fresh eye?
RO: Funny you should mention Nutcracker, Paige. This past December marked my 40th anniversary either dancing or photographing the Nutcracker. The music is glorious and new dancers every year always keeps it fresh, new and exciting for me. A highlight for me each year is photographing Central Pennsylvania Youth Ballet in Balanchine's production. I think I may have another 40 years in me …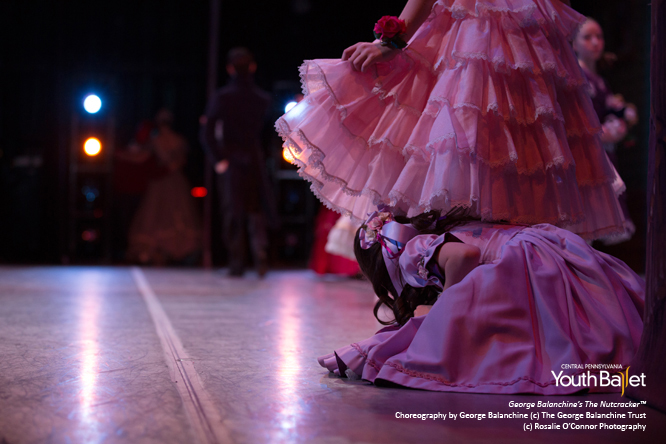 ANP: Your proudest moment. Did it occur on the stage or behind the camera?
RO: Professionally, I have had multiple moments that stand out. If I had to pick one moment that links both passions, it would be the day in 1999 that American Ballet Theatre's head of public relations, Kelly Ryan, left me a message during our season at the Metropolitan Opera House saying that Jennifer Dunning of the New York Times wanted to write a profile on my two careers. It was such an honor, and her article opened the door for me on so many levels. It was the recognition and boost of confidence that I was good enough to make my second career as a dance photographer. I'll always be grateful to Jennifer for wanting to interview me.