"Shall we their fond pageant see?
Lord, what fools these mortals be!"
-Puck, A Midsummer Night's Dream
---
 
"It's the state bug of Pennsylvania," Braden told me in a matter-of-fact tone.
"Really? The firefly? The state bug?" I paused for a moment.
Then, focusing my attention back on the task at hand, I resumed the evening's rehearsal with the large group of dancers who will be portraying various insects in Central Pennsylvania Youth Ballet's upcoming production of A Midsummer Night's Dream.
The next morning I thought, "Wait a minute."
Braden Hart is an energetic, diligent, and hard working student. That being said, he's a young man. He very often has an impish twinkle in his eye, and on reflection, I was sure that he had taken the opportunity to lead me to believe something utterly ridiculous.
He relishes the quicksilver choreography and draws out the story's great humor through the musicality of his mime.
And then I Googled it.
The state bug (who knew there is such a thing?) is the Photuris Pensylvanica, aka, the Pennsylvania firefly.
Braden is portraying the character of Puck in Alan Hineline's new ballet. Puck is a little prankster of a sprite, or elf, and Braden fits this playful, animated role.
He relishes the quicksilver choreography and draws out the story's great humor through the musicality of his mime. He's the first and last dancer we see in the ballet. Puck, in a sense, is the master of ceremonies, leading us through two realms: That of Titania and Oberon, the elegant fairies of the forest, and the humans, with their cycle of romantic troubles.
So Braden didn't lead me astray. The Pennsylvania state bug is a firefly, a magical little insect that brightens summer's long nights: Creating a sense of playfulness among the young and drawing on the youthful memories of the old.
As I continued getting ready that morning, I reminisced on my own youth. Born in the south in August, I loved the long, slow days of summer. As a child, it was a time with seemingly endless possibilities. My best friends, Amy and Berri, and I often spent the waning light of dusk chasing the flickering, dancing fireflies in my grandmother's back yard.
Central Pennsylvania truly has the most magical fireflies I've ever seen. You don't have to wait until June to spot one! They're making an early appearance this year, at the Whitaker Center on April 14 and 15.
Puck has a story to share! Gather a few of your fellow foolish mortals, and we'll see you there… For ticket information, visit CPYB.org.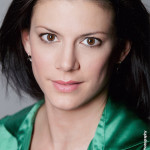 Amanda Edge is on the faculty at Central Pennsylvania Youth Ballet. During her professional dancing career – at New York City Ballet and on Broadway – she attended Fordham University, where she discovered a fondness for writing. She works as a répétiteur for The George Balanchine Trust staging a number of George Balanchine works.