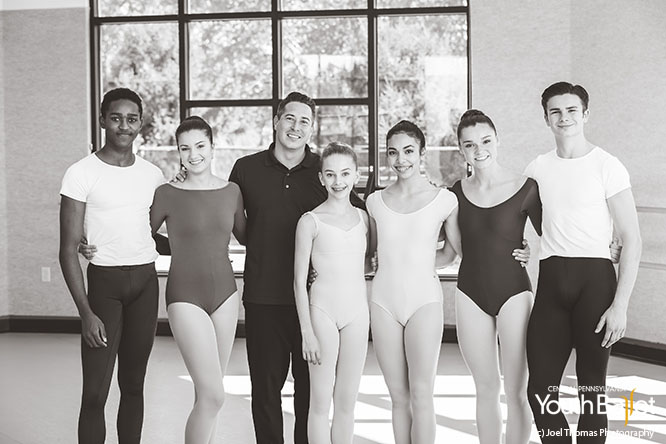 They all say "Thank you" as they usually do as I start walking out of the studio and back to my office. That is when it hit me … THIS is why I do it.
Over the past year, like all years, there have been good moments, lackluster moments, turbulent moments that could have gone either way; and then there are times like this.
These are the moments I live for. A simple moment to recognize what is important … and for me, it is those kids and their smiles at the end of a class.
Don't get me wrong. Being CEO of Central Pennsylvania Youth Ballet is one of most rewarding jobs I've ever held: providing these kids with many opportunities that only compare with the top schools in the country, which in itself provides a whole other kind of satisfaction and happiness. But there is the priceless gift that these kids give back to me that makes every moment of my work worth it — both inside and outside the studio.
" … but sometimes you got to just say, 'what am I missing?'"
Getting to teach these kids became a rarity over the past year, and to be honest, a part of me missed them like a friend who had moved out of town. Watching snippets of them in classes or rehearsals from the back of the room while I took a needed five-minute break from my office, or hearing about the progress they were making when I'd speak to faculty members or choreographers rather than seeing it for myself, all the while knowing each meeting I ran and decision I made was making a better experience for them. My life in a ballet school feels very parental … but sometimes you got to just say, "what am I missing?"
After our studio expansion was done this past June, I took the summer to really evaluate what was missing; and I realized that I missed these kids as if I missed my own child growing up. So, I made the decision to find true balance. Just like a standing meeting with my marketing, finance or development teams, I put myself on the kids' calendar, in the studio, and after a couples of weeks into it, THIS feels like business as usual.
It's easier for me to stay at the office late, get up early for a breakfast meeting, or even to set things aside and spend time with my own wife and daughter knowing that I'm remembering why I do all of this in the first place.
Both the art and the business of ballet are a lot of hard work. For me I want to remember why I'm doing things in life, because it's just too short to do anything I don't truly love.
Thank you to the kids of CPYB for teaching me a lesson.
Nicholas Ade was appointed CEO of Central Pennsylvania Youth Ballet in November 2014. Prior, he served as the School's first school principal (2012-2014). Nick was school principal of the Pacific Northwest Ballet School's Francia Russell Center, PNB's Eastside School, under Artistic Director Peter Boal from 2006 through 2012. A dance educator, Nick danced professionally with Pacific Northwest Ballet for 10 years.