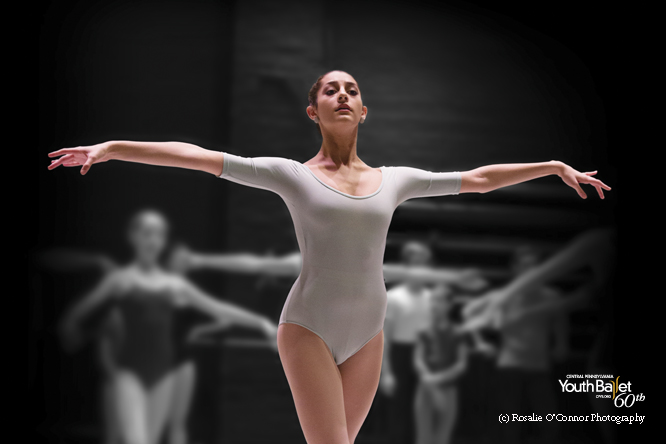 Musicality
Cameron Essis Gildea is just beginning her professional journey, but she knows what belongs in the successful dancer's toolbox.
"It's all about putting all the things you know and have learned into one," says the veteran CPYB dancer, 2016 Cumberland Valley High School graduate, and Pacific Northwest Ballet summer program student. "You can't be an artist with just technique. You have to have passion and musicality and drive and elegance to be an artist."
The works presented in Central Pennsylvania Youth Ballet's 2016 June Series encapsulate the school's six-decade commitment to rigorous training plus challenging choreography and performance excellence. Price Suddarth's limit[LESS] immerses students in complex partnering and of-the-moment movement. George Balanchine's Western Symphony and Emeralds instruct students in the seamless pairing of music and dance.
In discussions of Balanchine's choreography, especially, one word comes up again and again: Musicality.
"When you watch a dancer perform a Balanchine piece," says Gildea, "you can hear the music through the steps."
Giving dance a voice
CPYB Chief Executive Officer Nicholas Ade credits Balanchine's appeal to that musicality inherent in his works.
"It has always been about his musicality, his refinement, his understanding of how women move in a classical sense, and being able to pull out personalities within the choreography to tell a story," he says.
In Balanchine, students learn to transform music into visual art. "The dancer is not subservient to the music, but the music is certainly not subservient to the dancer," says Ade. "They work in tandem. Dancers collaborate, not just with each other, but with the music."
Applying those lessons in musicality and collaboration to the works of varied choreographers teaches the art of adapting, says Julian Duque, a CPYB alumnus now dancing in the Miami City Ballet corps de ballet.  Sometimes, he'll start a new piece thinking it doesn't suit his style, "but by the end of the process, there hasn't been a piece where I haven't figured out ways to make it my own and feel this is fun."
"Even after you're done being a student, you're constantly learning," he says. "Your body is constantly adapting to everything that you're doing every day."
The dancer's journey
With every choreographer's unique style, dancers learn "to evoke an emotion, or tell a story, or how to move in a way that is engaging to an audience," says Ade. At CPYB, it's about "taking the classwork you learned and moving yourself into a realm of being an artist and a communicator through movement."
Gildea credits her CPYB training for the versatility and adaptability she hopes will guide her through a professional career. When she trains her body to move in different ways, she is preparing to project a choreographer's vision.
"A lot of dancers experience choreographers they don't like, but to be a dancer, you have to make their work look the best you can, and you want to look the best you can," she says. "It's important to be comfortable with the choreographer and know that every work is going to be an experience. It's your art form and your job. It makes you more versatile and a better asset to the company."
In the end, she says, "you're portraying a story, and you want the audience to be on the journey with you."
For young dancers, exposure to many styles of world-class choreography is "great practice, because that's what you do in a professional company," says Duque. "You might be dancing one style one moment, and after the intermission you might have to completely change not just the dancing style but the acting style and what you have to portray with the piece."
Through rigorous training, CPYB students "explore the wonderful realm of not only Balanchine but new choreography," says Ade. That mission is "in the everyday fiber of the school. Being able to dance these ballets really does prepare them to go on to a professional stage and feel confident."
Gildea feels it when she steps out to perform – something she has done since starting her CPYB training as a 5-year-old "barn baby."
"Being able to perform at such a young age and grow up on stage makes you feel more confident and comfortable in dancing, and that's what being a professional is about," she says.
The artist emerges
Good choreography elicits reactions through its distinctive voice, but it also allows the dancer's artistry to shine through. As always, the development of young artists is behind CPYB's selection of performance works. Students experience the give and take of working with diverse choreographers – some of them living, like Suddarth, and others enduring through the oversight of their precise répétiteurs, like Balanchine and CPYB'S own Darla Hoover.
"It allows them to explore their art and become artists at a younger age, which allows the maturing process to happen a little bit earlier as an artist but also allows them to feel comfortable expressing themselves," says Ade.
Which brings us back to musicality, Gildea's "hearing through the steps." A choreographer or répétiteur introduces students to the whys and wherefores behind each step, "why it should be smoother or faster or sharper," says Ade. Musicality emerges when students hear a phrase, maybe a certain piano glissando or violin pizzicato, and learn to mimic it in their steps.
"The nuance is within the choreography to help you allow your artistry to come out," says Ade. "It's not an interpretation. It's taking it to a deeper level for the student to have a richer and more full experience."
With each performance work, students exercise their imaginations. They learn to empathize with their characters, enliven the stories they're telling, and engage audiences. That's when they catch a glimmer of the reward possible from all their hard work.
"They let themselves go and they let the artistry they have worked on through the rehearsal process work its way into their performances naturally," says Ade. "That's what we're training them to do, and that's why Balanchine's ballets are great for that, because the musicality allows you to do that very easily."
Diane McCormick is a Harrisburg-based writer and lifelong lover of the arts. She is a regular contributor to the Harrisburg Patriot-News/pennlive, Harrisburg Magazine, The Burg, and Susquehanna Style.