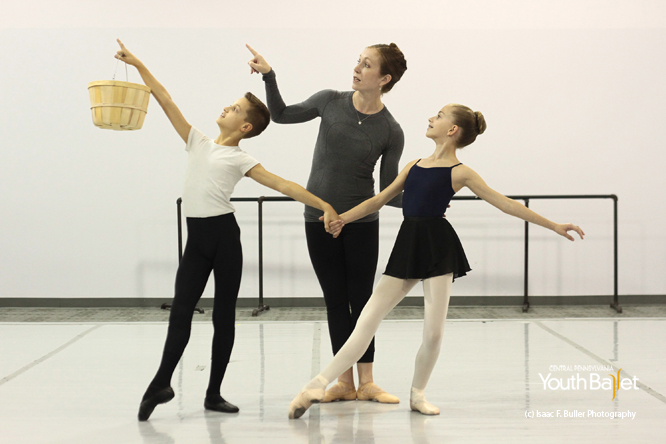 What to do? What to do? Mother Goose characters, it seems, are always tangled in dilemmas. Will Jack and Jill safely fetch their pail of water? Is Humpty Dumpty fated to become an omelet? Where are Little Bo-Peep's wandering sheep?
Now comes Once Upon a Rhyme, an original production from Central Pennsylvania Youth Ballet with a fresh spin on Mother Goose conundrums. Here, young dancers play schoolchildren immersed in a rhyme wonderland. Can they lead Mother Goose characters to happy endings? As they embark on their own journeys into the wondrous places that dance will take them, can they truly put Humpty Dumpty back together again, bandage up Jack and Jill, and reunite Bo-Peep with her lost lambs?
Mother Goose characters, it seems, are always tangled in dilemmas.
You'll have to see the production to find out. But in bringing rhymes to life on stage, CPYB teaches students that the everyday, practical considerations of problem-solving go hand-in-hand with the illusions of artistry. In this mashup, magic happens.
Choreographer and original story creator Kelly Ann Sloan is familiar to CPYB audiences through "Peacock Feather," her work for the 2015 June Series, and other original pieces. But Once Upon a Rhyme is one of Sloan's first story ballets, where dance steps, music, sets, lighting and costumes blend to carry a story arc through beginning, middle, and end.
"It was a challenge, but in a good way," says Sloan. "When I made the ballet for the June show, it was all about the music and the movement. Here, there are so many factors involved. You really have to think about everything while you're planning out the scenes, rather than just the steps the dancers will perform."
Sloan, who has been choreographing since 2003, says she has "tried to constantly challenge myself and constantly grow. I try to not go with the same-old same-old. Do something new. Don't be comfortable."
In any ballet, with or without a storyline, collaboration is essential to success, and the story of Once Upon a Rhyme is built on "the idea that teamwork helps to get a problem solved," says Sloan.
"There's never one student that takes control over the others," she says. "It's a team effort. They learn how to communicate."
In the rehearsal process, Sloan keeps the lines of communications open. She'll ask students what felt natural, or what felt awkward. Were there traffic issues anywhere?
"I like for the kids to be vocal," she says. "Even in a story you've written and planned yourself, any choreography is still a collaboration with the dancers. The teamwork and the communications aspect are elements that shine through with the story. Dancers are able to go to different characters and not be shy and help them out with their situations."
Set designer Lewis Folden found that his collaboration with Sloan "felt like we were thinking with the same brain." Like ballet, set design relies on "visualization of thought and ideas," he says."For Once Upon a Rhyme he drew inspiration from early-20th-century storybooks, abundant with charming and meticulous illustrations of characters sorting out the dilemmas before them.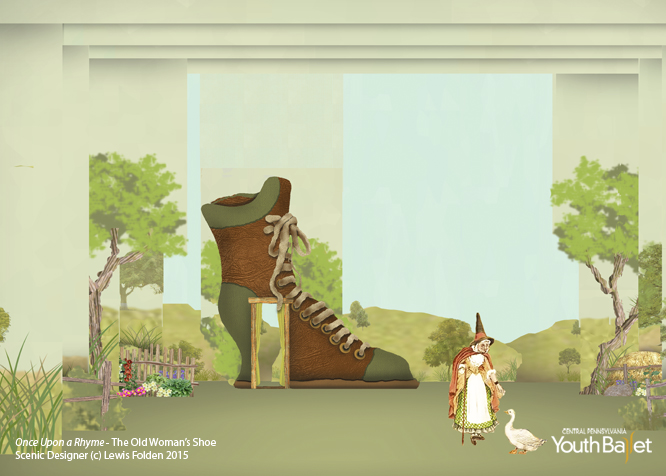 "There's a simplicity to the drawings, where the background tends to be a little simple, and detail is focused right there on the spot with the character and what's going on with them at the moment," says Folden. "Conceptually, that's where we landed."
Pop-up books also inspired a key concept of the set. Just like children play with toys and use their imaginations to manipulate the worlds they inhabit, these young dancers move set pieces in and out as the scenes, figuratively, unfold.
Narrator Cary Burkett also collaborated with Sloan, turning her storyline into a rhyming scheme. When he presented the idea to her, she agreed because "it needed to have that rhythm," he says.
"That's when it really started to come alive," says Burkett.
For Burkett, the CPYB dancers are "the best part of the whole process."
"They're so professional, so committed and dedicated," he says. "It gives you a sense of humility to be working with such dedicated individuals. They have to give a lot to their art. You don't find that many young people who are willing to pursue it with that sort of passion, so it's inspiring."
When students participate in an original ballet, they "can be a part of something new, something that's never been done, something they are a part of the first creation of, and that's a good thing to have," Burkett adds. "Everything they do is collaboration, with each other, with their teachers, with composers. To have something that's new and never been done – it's another aspect of their education."
Folden relishes the joys of working with young dancers "in a period of amazing discovery." Exposure to "a fully professional production" prepares them for similar situations when they reach professional ballet companies.
"These kids are going to benefit just by their association with what I'm giving them to work with," he says. "That's the real reward."
In CPYB's focus on professional performance, students are introduced to the ultimate test in problem-solving – real-world experience. Students "get an introduction to the stage even if they're the youngest dancers performing a very small role," says Sloan. "It gives them a taste of what it's like to be onstage and a taste of what it's like to show off all the hard work they've put into the studio for years, working on technique and working in class."
Sloan marvels at the "really high level of professionalism" that CPYB students bring to rehearsal and performance. They are, she says, "already at the starting point, in a nice place that can only grow and get better." The schoolchildren they play in Once Upon a Rhyme help Mother Goose characters problem-solve their ways out of their dilemmas. In real life, like their characters, they are continuously learning, which feeds the imagination.
"That's the gist of the whole ballet," says Sloan. "You could say at the end, 'Was that a dream, or did that really happen?' It's your imagination. There's no right or wrong answer."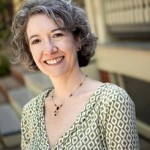 Diane McCormick is a Harrisburg-based writer and lifelong lover of the arts. She is a regular contributor to the Harrisburg Patriot-News/pennlive, Harrisburg Magazine, The Burg, and Susquehanna Style.
Enjoy other posts by Diane: