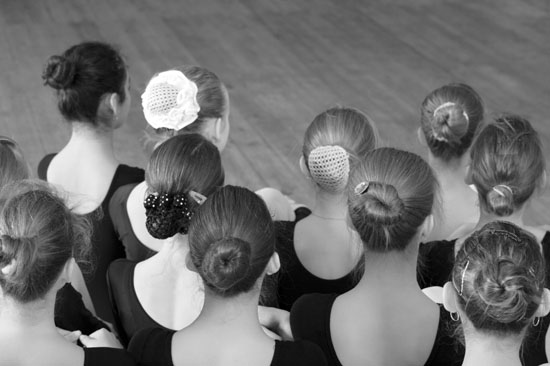 Pristine leotards. Tights super stretchy with no runs or picks. Rigid shoes waiting to get broken in. A restless body needing to feel the accomplished burn and enjoyment from daily class. Just a few of my favorite memories of heading back into the studio.
Witnessing the same excitement radiating from my own little dancer, I stand behind her constructing, by my count, bun number 8,567 while reflecting on all that I have learned in my short time as a ballet mom. Many years in the studio coupled with those on stage allow me to posses a great deal of knowledge into how to dance. But, I may just bouree out on a limb here and say that in the last two years I have gained an equal amount of insight on the other side of this bun.
As we head full throttle into another ballet season, I want to repost snippets derived from my earlier Ballet Moms …Surviving It blogs. Several of these I obtained from veteran Central Pennsylvania Youth Ballet moms. Others I added and tweaked from things I have seen, heard or been part of. Maybe it's just me, but I believe these points should be hung in all dance studios. Good reminders. What do you think? What tips would you add? Let me know …
"… I stand behind her constructing, by my count, bun number 8,567 while reflecting on all that I have learned in my short time as a ballet mom."
You have heard it a million times. Probably from your own parents at some point. Be happy for others. If you practice the art of celebrating another's success, I promise you will create strong friendships. In fact, I guarantee it will free up your time and give you more energy to stay focused on your own personal goals.
Yes, whispering is still for the library. Or, when your mother is on the phone. If it has to be whispered my guess is it's probably best not to say it right then and there.
Ask questions. Don't rely on rumor milled answers or what has trickled down the grapevine. Live by the "there is no stupid question" rule. Do not be afraid to ask teachers, staff and other parents.
Corrections. It's all part of improvement, right? Explain that criticism shows belief that a dancer has a lot of talent waiting to materialize. Teach your child how to accept them with a simple smile, a nod and even a thank you. Yes, sometimes the comment may pack a punch. Help your student learn to acknowledge the remark, take a deep breath, and get to work!
Level placement represents a moment in time. Help your dancer channel their energy to work hard and master the requirements of that level.
Parents, how is your attitude affecting the studio environment? We're part of the team. Avoid standing around with idle chatter. Keep busy. Volunteer.
The day your child wakes with a runny nose and a fever to boot, let your studio know. We all have them. In fact, let your school know when your child will miss a class regardless of the reason. Attendance is a sign of commitment. A good life lesson here; not to mention your child will thank you for keeping them out of the hot seat.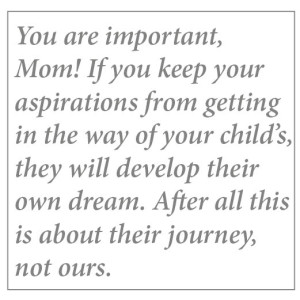 Congratulations! You've been promoted. To the hats we as parents already wear go ahead and add coach, manager and procurement agent. Make sure your student has the sleep, food, physical therapy he or she needs. And don't forget that hug. When you can, stretch yourself by offering that same support to other students and parents. What goes around comes around.
"Thank you" goes a long way. Always thank the adult who helps your child, even if they change something like that bun you labored over! Parents and kids alike become stressed in the theatre and it's easy to forget we all want every child to succeed.
Stay in the know. Check your school's calendar and bulletin boards as part of your daily routine (and sometimes multiple times a day) for schedule updates. Need I say, be sure to read all e-mails sent from your school. My guess is no one needs the added tension of "I wasn't aware of …"
Music is soothing to the soul. After a long day some great songs for your playlist: "You Can't Always Get What You Want" by the Rolling Stones, "Tomorrow" from "Annie," and "Faith" by George Michael.
A bun's life is never done and so it seems neither is a ballet mom's. Let's hang in there, together. It's going to be a great year!