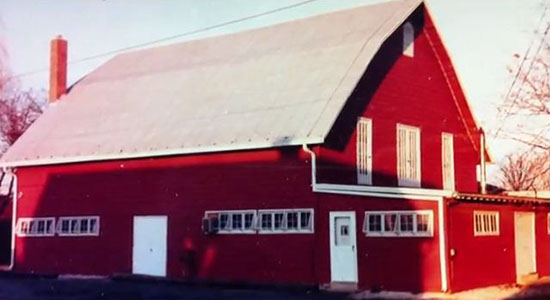 "THIS is ballet?" says a little voice mixed with confusion and surprise. "A barn? A REAL RED barn?"
My daughter looks up at me as she tries to reconcile taking ballet class in a structure she only knows as a place where farm animals live. We've arrived for our very first ballet class at the CPYB Barn Studios, and I make a mental note to always remember this moment of sweet innocence from my 6-year-old.
As a young mother recently relocated to the area, I'm eager for how my daughter will adjust to living in a new place with new friends to meet and a more serious approach to ballet than she has yet to experience. "Is this off to a good start?" I wonder. Neither of us quite sure, we step across the threshold hand-in-hand for our first class into what has become the legendary CPYB "barn."
Maybe you've heard of the term "barn babies." They're the youngest of Marcia's students. The ones who've been training with her since as early as a preschool age. These little ones possess an enormous drive early on. They're passionate about dance and develop a wonderfully deep work ethic. And their skill? Well, the advancements, achievements, not to mention technical abilities, they acquire are quite amazing for ones so young.
Recalling my early days as a young dance student, would I have feared these "barn babies"? Possibly. But, I think it would have been a healthy fear. The kind that's wrapped in respect and that motivates you. After all, for years Marcia's "barn babies" have been performing with major dance companies throughout the world. They've, in fact, been referred to as "major factors in the ballet world."
"Class was amazing!"
Jolted out of my thoughts my daughter can barely contain her excitement as she twirls and bounces out the door of that first class. "Look what I learned!" "When can I come back?"
Yes! The hunger for more has now been instilled! We have no more discussions of barns. Now her main concern is whether or not it is a ballet day and at what point she will be able to be one of Marcia's angels in 'The Nutcracker.' She's over the moon excited to be advancing on to the next level where she'll receive Marcia's renowned instruction (my words – not hers).
Is this how it all begins? Is this how it started for each of Marcia's famed dancers? It might be so; but just to be sure, I shall revisit this post, in say, 10 years. And while I'm there, I'll smile as I quietly remember my little dancer who wondered at the barn.
Where did it all start for you? Let's take a walk down memory lane for your beginnings in ballet. Photos, anyone?
Writer's Note: CPYB did, indeed, have its humble beginnings in a barn. With the help of local realtor P.K. Miller, Marcia purchased a red barn on Louther Street and Meetinghouse Road in Carlisle in1957. Still home to several sheep, Marcia, her father, her sister Sandra, and other ballet parents got to work removing the sheep and renovating the building.
With the help of mirrors, barres, and a wooden floor, they transformed the building into a studio. Then the real work began as the dancers moved in. The rest as they say is history … Living in the World of Ballet.