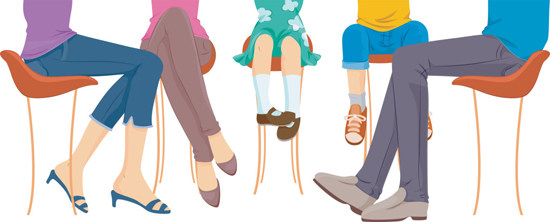 "Cheers!" we say, relieved as our tired, limp bodies settle into our chairs. It's late, and here we sit at the table finally ready to have our dinner. Somehow I've managed to get another late night meal on the table. It's after 9 p.m., but that's OK because our family has come together at the end of a long day.
I know that we're not alone in this. Most, if not all, ballet families are familiar with these late night dinners. Back when Nick and I were dancing, we used to refer to dinners at these hours, or even later, as "theatre hour dining."
More often than not, ballet dominates our dinner table discussions. How could it not, really? Nick begins to beam as his hunger is satisfied. He can't help but brag about his students as he recalls success stories from the day. One student performed great turns here. Another had a great jump there. And on he goes. He lovingly stops to ask about the details of my day … and he doesn't let me skip any of what I would consider to be monotonous details. Good man!
Our girls share their days. In between some sweet delicate bites and some large, rather drawn-out yawns, they tell us stories from ballet, about the corrections and triumphs, struggles and improvements, and of course, giggles and socializing. As we listen to their stories and take in their expressions, it's as if we're savoring a sweet delectable dessert (mine involving something with toffee, Nick's covered in butterscotch sauce). Ah. One less thing I have to prepare and serve.
If you're like me, it can be challenging to prepare healthy family meals for theatre hour dining. At that hour, few of us have the energy or inclination to plan a dinner menu. I've found that I have a few "go to" dinner recipes that my family enjoys and that are simple, fresh and healthy. I make sure I have the ingredients on hand (yes, it takes a little planning ahead), and as a result, our days end with a healthy meal and a focus on each other.
Here's one of my favorite recipes: Mediterranean Pasta. I love this recipe because you can prepare the ingredients while the pasta cooks. Then combine it together and voila! Dinner is served.
What's your favorite recipe for theatre hour dining? Would you share it with us below in comments? Bon appetite!
Mediterranean Pasta
Ingredients
12 ounces whole-wheat pasta
2 tablespoons olive oil
½ cup chopped shallots
1 pint cherry tomatoes
1 jar (6 ounce) marinated artichoke hearts, drained and quartered
¼ cup pitted and halved Kalamata olives
½ teaspoon salt
¼ teaspoon pepper
4 cups (1 bag) baby arugula
½ cup crumbled feta
Directions
Bring salted water to a boil. Add the pasta and cook to desired tenderness. Reserve ¾ cup of pasta water prior to draining.
In the meantime, heat oil in large saucepan. Add shallots and cook for 5 minutes. Next, add tomatoes and cook till they begin to soften.
Remove the pan from heat. Add artichokes, olives, salt, and pepper. Add to this the drained pasta, arugula and reserved pasta water. Sprinkle with feta cheese and serve it up!