Retirement. I remember it being THE taboo subject when I was dancing. Each of us knew it was inevitable. But we would not talk about it. Maybe after working a lifetime toward one singular goal, hanging up our shoes was such an inconceivable concept. Fear of losing our identity? Our notoriety? The time and effort it would take to rebuild a new life? Yes, yes and a challenge for sure!
Guest blogger Tina LeBlanc has so eloquently taken the taboo out of retirement. A member of the San Francisco Ballet School faculty and a former San Francisco Ballet principal dancer, former Joffrey II and The Joffrey Ballet dancer, and Central Pennsylvania Youth Ballet alumna, Tina takes us through her beginnings, having a family, overcoming injury, saying good-bye, and thoughts on life today.  Enjoy!
I danced professionally for 27 years. That does not include the 12 years of training before that, from the day I took my first ballet class at the age of three until the day I walked into City Center to begin my first job with the Joffrey II dancers. Twenty-seven years on stage is a very long time. I am very proud of that achievement. In hindsight, however, it seems like the blink of an eye.
Looking back, I see that in the beginning I was a bit lazy. I always gave 100 percent for performances, but did not really know how to utilize my time in rehearsal. Things changed when I started being used for solo and principal roles when I was 17 or 18. The responsibility and pressure that came with those roles lit a fire under me. It helped spur me on to approach class and rehearsal time with more thought, focus and maturity.
As time went on I grew to enjoy class and rehearsal more and more. I viewed technique, artistry and the body as a giant puzzle, something that would continue to fascinate me as I slowly put pieces in place. The more I learned the more I realized there was to learn. The more I pushed my body and reached for perfection, the more I realized how far there was to go. That perfection was an unattainable concept was definitely subject to taste and opinion.
* * *
Artistry really started to bloom in my early 30s, after having my first child. I feel my peak came after having my second child. One reason was that my real job, the most important one, was at home. Being in the studio became playtime – "me" time – where I could explore and push limits in myself. Another reason was that the end was drawing near, something inevitable in any highly physical profession. It was during my second pregnancy that my director gently broached the subject of my future. I was afraid to bring it up to him; but since he started the conversation, we discussed it openly. Neither of us actually knew if I would be able to make it back a second time, or if I would even want to. At that point I expressed interest in staying with the San Francisco Ballet as a teacher in the school. I have always enjoyed working with eager young kids, and I felt the need to pass on all I have learned. My director was willing to wait, to see how I would handle the birth of my child. He did not push me or offer an opinion on the matter. The next time the subject came up, it came from me.
"That's when it happened!"
Around age 40, I began to entertain thoughts of retirement. I was having a harder time enjoying the process, as well as performances. That's when it happened! The only serious injury of my career. I tore my ACL, one of the three ligaments holding my knee together. All of a sudden I was faced with my career being ripped out from under me before I was truly ready – just disappearing from the stage after 25 years without any sort of good-bye. I was looking at nine to twelve months of recovery after surgery. How does one come back from that at age 40? After a tough couple of days of soul searching, I came to the conclusion that since I had to rehabilitate my knee anyway, I would give it everything I had to get back on the stage so that I could retire the way I wanted to. If I did not make it, at least I had tried!  Thankfully, once again my director gave me the benefit of the doubt and  waited to see if I could achieve my goal. He may have had misgivings, but he said nothing except, "I thought you would say that," when I told him of my plan. I have always been quite determined when I want something and will never know if my director was surprised when I accomplished my goal. I returned to the stage reaching full strength. Dancing some of my favorite pieces, I retired in a special performance on May 9, 2009.

The months leading up to my retirement were filled with waves of emotion; sadness, anxiety, relief, and anticipation were just a few that I felt during that roller coaster ride. I knew it was the right time. I was going out dancing roles from my repertoire (which always seemed to be the technically demanding roles) and dancing them well. I was leaving the stage before people started to say, "Oh, you should have seen her a few years ago!" I can remember seeing dancers cling to the stage longer than they should have and being disappointed in what I saw. I did not want that to be me. I think I succeeded in that, but I suppose that is subject to opinion.
* * *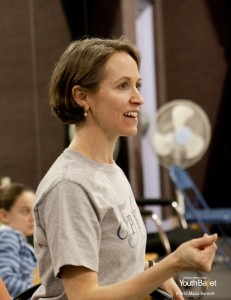 So I came to start my second, related career as a teacher. The transition was hard in some ways. I went from being self-focused and absorbed in my own physicality to expelling energy out to students, trying to help them grow and learn, trying to pass on 35 plus years of my own learning. Sometimes I think it takes more energy than dancing did. The constant pushing, pulling and coaxing of dancers to reach for the next level are definitely lessons in patience. There are times when I feel like I am banging my head against a wall. Times that I am ecstatic as I watch someone grasp a concept. Times that I am frustrated Times that I am so proud that I get emotional. In fact, it is a lot like being a parent!
Another thing that is hard getting used to is the condition of my body (Redefining Beauty, Dance Magazine).  I miss what it feels like to be in tip-top shape and in control of even the smallest little muscles, completely toned. One of the reasons I had looked forward to retiring was not having to mentally and physically push myself so hard; but without that push, you cannot keep a highly athletic body.
"
Oddly enough, [in retirement] I miss being sore." 
I don't miss having to watch my diet! Not that I had to be too strict in my later years. It does not mean that I am happy about being heavier, but I no longer have or want to be dancer thin. Unfortunately, one of the marks this profession leaves on even the sanest, most levelheaded females (which I consider myself to be) is a distorted view of our own bodies. Staring at yourself in mirrors all the time, comparing yourself to others, and being told from a young age everything that is wrong with your body has a lasting effect.  My sister* tells me that I must embrace my post-dance body. Embracing it might be a stretch, but I think I have come to accept it.
There are other things I miss: the camaraderie with my fellow dancers, the zone of focus as I would prepare for performance through applying make-up, fixing hair, and warming up, the surge of adrenaline as I stood in the wings, the electricity that would pass between me and the audience, the sense of accomplishment after a good performance, walking across the stage of the dark theater as I left for the night. Oddly enough, I miss being sore. The kind of sore where I knew I had worked my muscles to the maximum and beyond.
* * *
I do not regret retiring when I did; it was the right time. I was lucky. I did not feel pressured by anyone to stop, and I did it the way I wanted to. Life after the stage is still fulfilling, albeit in a slightly different way. My goal now is to try to pass on what I have learned and what I am still learning. If I can be a positive influence to some of my students, I will consider myself lucky. Dance is movement, life, art. It continues to be my passion.
* * *
Tina LeBlanc is a member of the San Francisco Ballet School faculty. She trained at the Central Pennsylvania Youth Ballet and went on to dance with Joffrey II and The Joffrey Ballet before joining San Francisco Ballet as a principal dancer in 1992. Her honors include two Isadora Duncan Dance Awards and the Princess Grace Statuette Award. In 2009, Ms. LeBlanc retired from SF Ballet and joined the faculty of the SF Ballet School.
A New Page Note: *The LeBlanc sisters — Laurie, Tina and Sherri — all three trained at Central Pennsylvania Youth Ballet under Founding Artistic Director Marcia Dale Weary and went on to dance professionally.