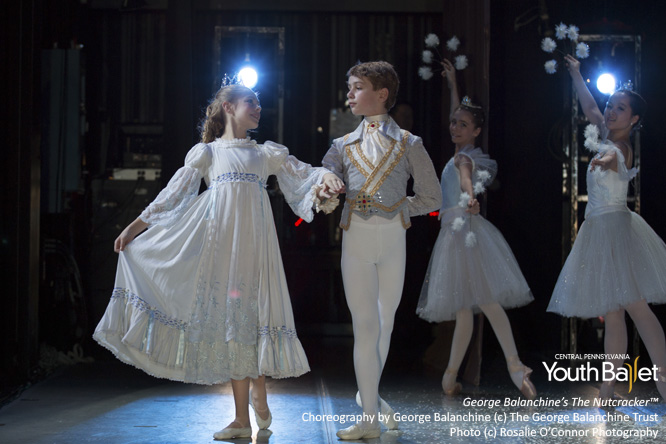 Magic doesn't emerge from tricks and sleight of hand. Magic comes from within, just waiting for talent, passion and hard work to blend into a potion that brings it to life, ready to enlighten and amaze those fortunate enough to witness.
Magic is the human spirit blossoming into the gift of talent realized.
For Central Pennsylvania Youth Ballet, embarking once again on the enchanted journey of George Balanchine's The Nutcracker™, magic is the human spirit blossoming into the gift of talent realized.
Striving for magic
Noelani Pantastico was 11 years old, the well-traveled child of an Army family, when she entered CPYB. She had to relearn everything she knew. CPYB took away her pointe shoes and worked on rebuilding her strength.
As she shared memories of her CPYB days, Pantastico happened to be sewing her pointe shoes. From CPYB, she left for Pacific Northwest Ballet at age 16. She stayed there until joining Les Ballets de Monte Carlo in 2008. In November 2015, she rejoined Pacific Northwest as principal dancer. Without CPYB delivering "what I needed at that point in my life," she says, she would not have been a dancer.
"I needed some stability. It was the age I needed to find something I was passionate about. A lot of kids find soccer or baseball or gymnastics. This was a way for me to express myself."
In the CPYB environment, Pantastico pushed herself. Younger girls around her were astonishingly accomplished. With a flash of self-awareness that many children never experience, she knew she wanted to be like them.
"The kids themselves feed each other," she says now. "There's respect for each other."
Even with performances that feature twinkle-toed candy canes and fairies embodying the wonder of sugar plums, CPYB Founding Artistic Director Marcia Dale Weary and CPYB teachers have never sugarcoated the road to ballet achievement.
"You have to work to attain something," Weary says she tells students. "You have to put in the work."
"You have to work to attain something," Weary says she tells students. "You have to put in the work. Nobody's going to hand it to you."
On a blustery autumn day, Jody Updyke Ritrievi was wrestling a door from her house – part of a renovation project – into the car.
"Good thing I'm graceful and flexible from dance training," she joked.
Ritrievi accepted scholarships with the University of North Carolina School of the Arts and the Pacific Northwest Ballet School. She danced professionally with St. Louis Ballet and Harrisburg Ballet before retiring in 1995.
Now an appraisal group's administrative and research director and the mother of three daughters, she credits her CPYB training with the foundation for success at every phase. She was a resident of New Oxford, Pennsylvania, who took dance lessons locally until her teacher admitted that she could do nothing more for her.
"The best gift my first ballet teacher gave me was sending me to Marcia," Ritrievi recalls. At CPYB, every bit of encouragement sparked her to work just that much harder.
"You wanted to hear from the teachers and Marcia, 'Good job,'" says Ritrievi. "You wanted to please her and work harder. Everyone else was so good and so in love with the art that you never had a slacker."
But in the CPYB realm, hard work isn't anathema to the delights of childhood. Feeling accomplished and bringing out the magic within is a reward. So is presenting audiences the wondrous George Balanchine's The Nutcracker™ every year. Of all the Nutcrackers out there, the Balanchine has "the warmest, coziest, fuzziest feeling," says Weary. "It's a tradition. The children are innocent and free. The little girl is a little girl the whole way through."
"It brings back the days when I was young," Weary says. "You didn't go downtown every day and buy things. We'd get candy at Easter and new clothes at Christmas. Now, children get these things all the time. We explain to the children how joyous you have to be because Christmas meant so much more."
Today's children "need things that are beautiful," says Weary. "Ballet helps keep children younger, and they find out that learning is rewarding, that working hard is rewarding." She often hears from CPYB alumni, now doctors and lawyers, who say, "I would never have been able to accomplish this without CPYB."
"It's come full circle,… 

These are things that really touched me as a young adult, and I'm still able to feel it."
The confidence to dream
When Pantastico entered professional ballet, she took her spot with confidence. She knew her skills. She knew many of the dances. She knew how to manage the pressures of performance. "That's really invaluable when you're in a place where it's sink or swim," she says, "and I knew how to swim."
Back at Pacific Northwest Ballet, Pantastico is once again performing in George Balanchine's The Nutcracker™, dancing Sugarplum Fairy, Marzipan and Dew Drop. The steps ingrained in her by CPYB teachers 20 years ago are coming back with ease. That, she says, is pure magic.
"It's come full circle," she says. "It's crazy to me. Things stay with you in your life. These are things that really touched me as a young adult, and I'm still able to feel it."
Ritrievi agrees that "there's a quiet confidence in dancers. You carry yourself with a certain elegance and grace." At auditions, people who knew nothing about her recognized the hallmarks of CPYB training. Ballet opened doors to undreamed-of experiences, she says. She danced with Washington Redskins players, taking ballet for strength training. She went to NASA for studies conducted by Kenneth Laws for his seminal book, "The Physics of Dance."
As a young dancer, Ritrievi and her classmates, wearing skirts made by Weary's mother, would run around the CPYB Barn, just being little girls playing ballerina.
"It was our home," says Ritrievi.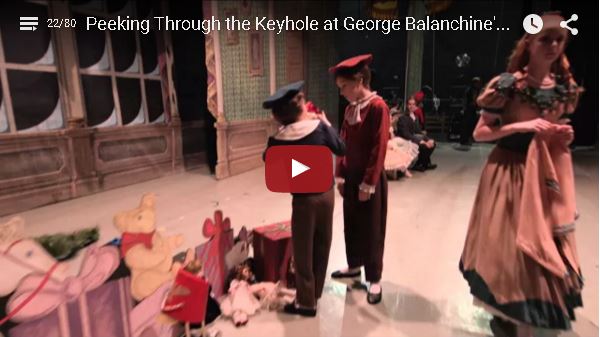 The magic is love
Audiences come to George Balanchine's The Nutcracker™ for "something that really touches their hearts and makes them feel this is Christmastime," says Weary.
As Pantastico looks ahead to what she knows is "the last stretch" of her career, she is increasingly grateful for her life in her art. "People want to connect," she says. "That's why the arts are there."
As she revisits George Balanchine's The Nutcracker™, she strives to fill it with "all this love and energy put into me these past years."
"This is the season when things change for kids," she says. "It becomes a tradition as a family. These things stay with them forever, so I want to make it as magical as possible, and hopefully, they feel the love I put into it as well."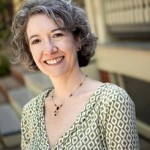 Diane McCormick is a Harrisburg-based writer and lifelong lover of the arts. She is a regular contributor to the Harrisburg Patriot-News/pennlive, Harrisburg Magazine, The Burg, and Susquehanna Style.
Enjoy other posts by Diane: