July 2, 2015
Volunteers. "The reason we give is because we value what our children are receiving every day on their way to achieving their dreams. Even what seems like a small contribution makes such a difference."
Well said, Nicole Hart — our newest guest blogger. Nicole is a mom to three Central Pennsylvania Youth Ballet dancers, and adding to that, a dedicated volunteer sharing her time and talents in any way that she can. Joining A New Page this week, she shares with us her experiences and roles as one of our stellar volunteers; and how she has learned that when she gives, she ultimately receives.
Enjoy Nicole's story. And while you do, remember this: Volunteers are not paid — not because they are worthless, but because they are priceless!
"There are days I feel I have no more to give. So please don't ask me."
We've all seen her: the seemingly tireless Dance Mom, chauffeuring her dancer back and forth from dance class. Delivering home-cooked, hot meals. Constructing a perfect bun in five minutes flat, all while dedicating 20-some hours per week to volunteering at the ballet studio. With a smile on her face.
There are times when I sigh and say to myself, "I wish I could do that." or "How does she do it?" I also think, "I am so happy there are people like her." The truth is, we need people like that. But, more often than not I'm not one of them. There are days I feel I have no more to give. So please don't ask me.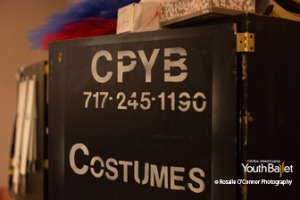 When I was approached last fall to be the chairperson for Central Pennsylvania Youth Ballet's new Parent Campaign, I was hesitant to jump in. My plate already felt full. I was volunteering at my church every week, juggling my kids' ballet schedules, and I had just started a new part-time job. Added to this, my husband and I had made the tough decision to be "geographically separated." That's a military term describing the situation in which a service member moves on to the next duty assignment while the family stays behind to provide some stability for the younger ones in the home. My husband had accepted an important position in another state, and I was left behind with all the responsibilities of sole parent of our three children. All dancers.
I hadn't been able to volunteer in the dance studio or backstage during productions as much as I would like. I have seen firsthand the incredible training that our dance school provides my children. They have grown not only as dancers, but as young citizens. The emphasis on hard work, discipline, team work, and respect for adults is priceless. Giving back by helping with the fundraising campaign, which is critical to the school's success, seemed like a good fit. So I decided to take on this new role.
Over the past two years, I have experienced such generosity from fellow moms and dads. Whether watching them work behind the scenes during a production, offering a helping hand to a fellow parent who is new to the "dance world," or providing a much needed laugh at the end of a tough day, I marvel at the way we all come together for the good of all. Because of this, I knew the Parent Campaign would be successful. I have seen that when these parents are asked something, they respond with "Yes, and what else can I do?"
The reason we give is because we value what our children are receiving every day on their way to achieving their dreams. Even what seems like a small contribution makes such a difference.
Did you know that over the last two years volunteers have contributed more than 5,000 hours to the benefit of our dance school? While the value of this is difficult to imagine, we can estimate the worth monetarily to be $115,350*. This monetary savings aids our school in continuing to provide quality training, incredible performance opportunities, facility improvements, and new choreography for our children.
"The reason we give is because we value what our children are receiving every day on their way to achieving their dreams."
I know we all feel like we are stretched to our limits, especially at this time of summer "intensive" training, which for parents means "intensive supporting." I wonder, though. If we can ask ourselves is there something I can give? My experience is that the more I give, the more I receive. Maybe it's an hour a week volunteering. For some it may be a monetary donation. For others it may be a much needed, kind word of encouragement to a struggling parent. We all have something to share, and I'm so proud to be part of a group who chooses to do just that.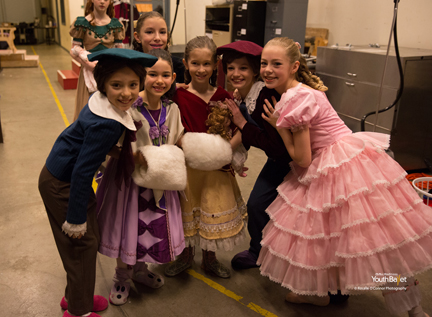 *Based on a current hourly rate estimate of $23.07.